Summer is the perfect time for family bike rides. Make sure those rides are perfectly safe by practicing the "be's" of bicycle safety.
.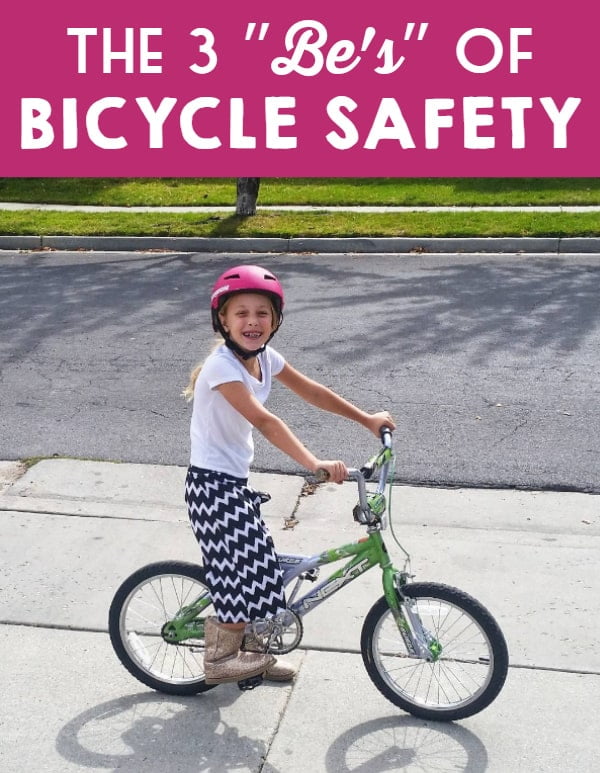 Disclosure: This is a sponsored post for Christensen & Hymas. All thoughts, opinions and helmet-clad kids are mine.
.
Summertime calls for new adventures for your family—camping, hiking, swimming. One of the best ways to adventure as a family is by taking a family bike ride. Not only does it provide excellent exercise disguised as fun (my favorite) but also allows for some quality bonding time. However, biking with young children can present its own set of challenges; sadly, collisions between automobiles and young cyclists are far too common.
For this reason, the Utah car accident lawyers at Christensen & Hymas have put together a few helpful hints for keeping you and your family safe on the streets while riding around the neighborhood (or the park or the campground) this summer. Called "The Three Be's of Bicycle Safety," the list is full of important reminders for riders of all ages.
.
The Three Be's of Bicycle Safety
BE PREPARED
As with many other situations in life, it is important to be as prepared as possible. Try doing the following to avoid some of the most common things for which most cyclists are unprepared:
Stay hydrated. Carry water for your kids; then you know they're drinking it.
Pack snacks. Make sure to have things on hand your kids like to eat—granola bars, trail mix and fruit snacks.
Bring first aid and repair kits. Nothing will cut your fun short like a roughly scraped knee. Be prepared with some basic first aid items.
.
BE SEEN
Many of the collisions that occur between a cyclist and a motorist are often caused by the motorist not seeing the cyclist. To help motorists see you, follow these guidelines:
Wear colorful and bright clothing. There are several companies who produce bright clothing specifically for cyclists and their safety. Some clothing even comes with reflective materials built in. If you do not have access to this type of clothing, wear bright colors like white, yellow, or bright orange that will help you stand out. Avoid wearing darker clothes that could help you blend in with the road.
Equip your bicycle with reflectors and lights. Lights will increase your chances of being seen by motorists. Also, your children will love adding them to their own bikes. Utah law requires all cyclists (including children) to have a working headlight and a working taillight on 30 minutes after sunset until 30 minutes before sunrise.
Avoid cycling in automobiles' blind spots. Teach your children to never think a car can see them even if they are right next to it. Chances are if you are riding to the side of a vehicle, they likely cannot see you.
.
BE SAFE
Most important, BE SAFE. Accidents while biking are far too common. That's why we wrote the Utah Bicycle Accident Handbook; the handbook details what you should do if you're ever in an accident. To help prevent accidents and keep your family safe during a bike ride, we suggest doing the following:
Teach your children to obey traffic laws, such as:

Stopping at intersections
Watching for cars while crossing the street.
Using correct crosswalk safely.

Have your kids ride in front of you. Cars can see you better than they can see your small children. This also allows you to keep an eye on your children.
Choose a safe route. There are many trails here in Utah designated for bikers and walkers. These trails provide some added safety without the hazard of automobiles.
Wear a helmet. Proper wearing of headgear can prevent some accidents from becoming serious injuries. Let your kids pick out their own and set a good example by wearing yours.
.
Did you catch that last part about setting a good example for your kids by wearing your helmet? I'm always surprised by how many adults think they're too cool to wear one. Do your kids a favor and wear a helmet when you bike, end of story.
.
If you're looking for more fun things to do in Utah with your family, check out my buy local first Pinterest board.
.
.

Feel free to "like" is this REALLY my life? on Facebook. It won't always earn you an extra entry in a giveaway but it will give you warm fuzzies.
Don't forget to sign up for free is this REALLY my life? updates via RSS or email so you don't miss a single awesome post.
.