Post may include affiliate links to support my Diet Coke habit.
Let's talk about elementary school fundraisers for a moment.
I'm not a fan.
.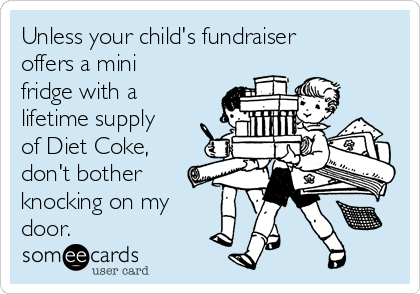 .
I don't need cookie dough and I have plenty of wrapping paper. The overpriced earrings I bought are tarnishing and let's be honest, looked much better in the catalog than on my ears. The school gets only a small percentage of sales, but that's okay because my kids earn super amazing prizes like sticky hands, squishy goop and mini plastic slinky toys.
The only school fundraiser that received my full support was the Apex Fun Run held last spring. Not only did the kids get some good exercise but they were also taught various leadership skills the week building up to the run. I love any opportunity to combine leadership and fitness. But then again, the school received only a portion of the money raised.
Call me crazy, but I'd love for every penny of every dollar donated to go towards the school, which is why when this school fundraiser flyer floating around Facebook is pure genius.
.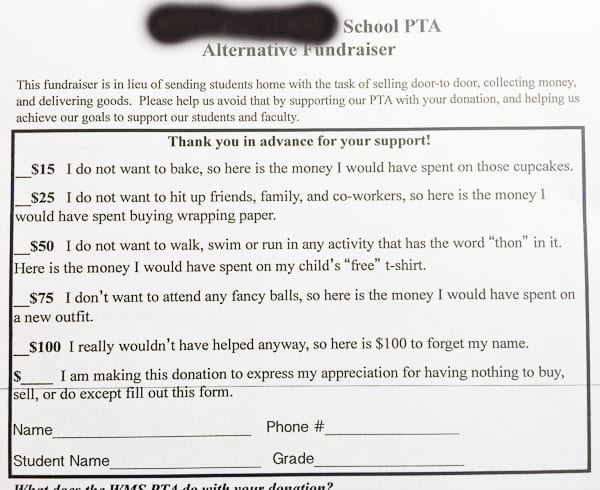 Photo originally posted on Facebook by Dee Heinz
.
I mean, RIGHT?! How about we all petition our schools to do something similar. I would even be willing to check multiple boxes. I think this form should add an additional option that reads as follows:
.
____ $150 School teachers don't get paid enough. I am happy to pay this amount in addition to the classroom supplies I've already gladly purchased (Kleenex, hand sanitizer, dry erase markers and glue sticks).
.
Sold.
.
If you're looking for something else to make you smile, you should browse my humor & funnies Pinterest board.
.
Follow Emily Hill's board humor & funnies on Pinterest.
.

Feel free to "like" is this REALLY my life? on Facebook. It won't always earn you an extra entry in a giveaway but it will give you warm fuzzies.
Don't forget to sign up for free is this REALLY my life? updates via RSS or email so you don't miss a single awesome post.
.