These truly are the best dinner rolls in the history of ever. They're easy to make and always receive rave reviews!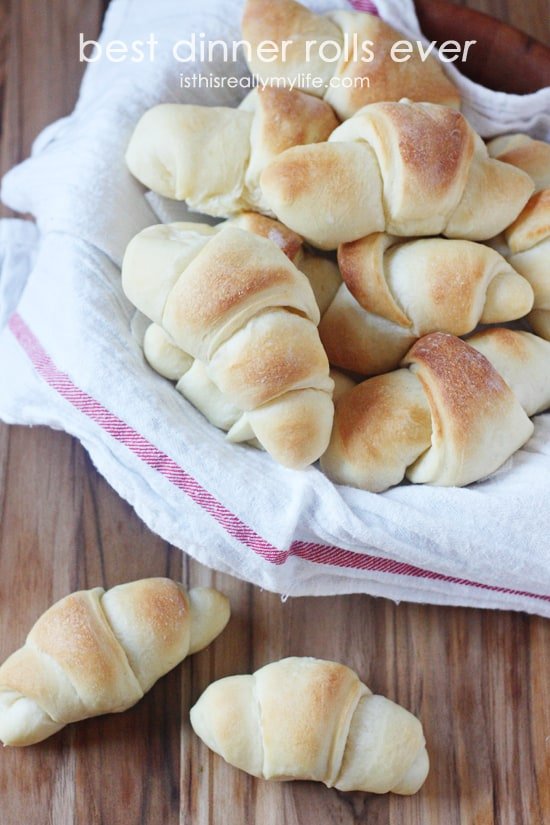 Like the salted caramel butter bars I featured earlier this week, these rolls were first shared a few years ago. Touted as "my closely guarded dinner roll recipe," it is still the best dinner rolls recipe ever.
Like, in the history of ever.
I love making the dough in my bread machine. It cuts out a bit of the work and means I can schedule the dough to be ready for rolling, cutting and shaping the minute we walk in the door from church on Sundays. I swear these rolls taste best with Sunday dinner.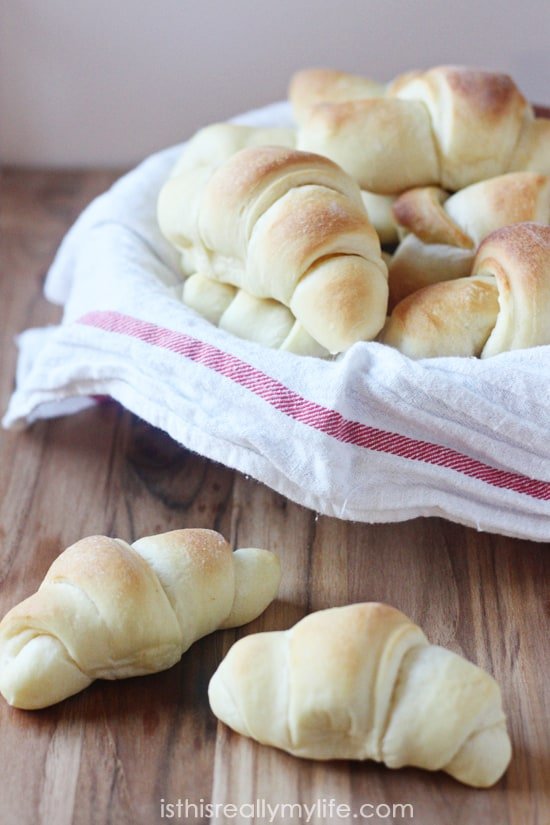 When I make them, I like to cut each circle into 12 wedges so we have 24 rolls total. It makes them a bit smaller but it allows each of us to eat four, which always sounds pretty dang good.
You can eat these dinner rolls topped with butter and jam, honey butter, marmalade, raspberry butter—you can top these babies with just about anything. Or eat them plain and reheated in the microwave for about 6 seconds. Best late-night snack ever.
Printable best dinner rolls recipe below. Enjoy!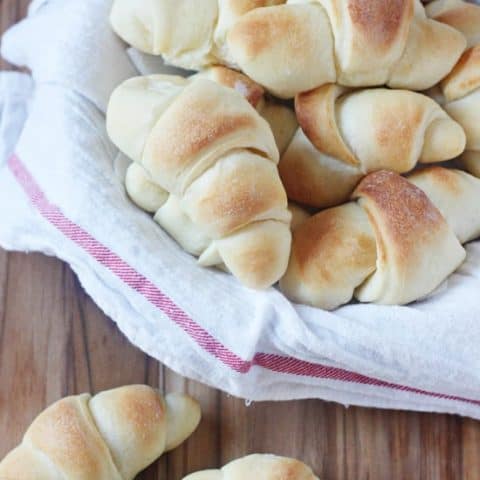 Best Dinner Rolls Recipe Ever
Prep Time:
2 hours
30 minutes
Total Time:
2 hours
40 minutes
These truly are the best dinner rolls in the history of ever.
Ingredients
½ cup warm water
½ cup warm milk
1 egg, lightly beaten
⅓ cup butter, softened
⅓ cup sugar
1 tsp salt (I prefer Real Salt Fine Sea Salt)
3 ¾ cup unbleached all-purpose flour
2 ¼ tsp active dry yeast
2 T butter, softened
Instructions
Place water, milk, egg, butter, sugar, salt, flour and yeast in the pan of a bread machine. Select dough cycle and press start.
Turn dough out onto a lightly floured surface once cycle is done. If dough is extra sticky, add a little flour until it is smooth and elastic. Divide dough in half and roll each half into about a 12-inch circle.
Spread 1 T of the butter over the entire circle of dough. Cut each circle into 12 wedges. (If you'd like larger rolls, go for 8 wedges.)
Roll wedges tightly but gently starting at wide end. Pinch the pointed end to seal it, which will (hopefully) keep the rolls from unwinding while baking.
Place rolls point side down on baking sheet. Cover with a clean kitchen towel and let rise for about 1 hour or until nearly double in size.
Preheat oven to 400 degrees and bake for 10 to 12 minutes or until golden. (Sometimes mine need only 8 minutes, so watch them carefully!)
Serve warm, preferably with a side of homemade jam.
Nutrition Information:
Yield:

12
Serving Size:

1
Amount Per Serving:
Calories:

239
Total Fat:

8g
Saturated Fat:

5g
Trans Fat:

0g
Unsaturated Fat:

3g
Cholesterol:

35mg
Sodium:

261mg
Carbohydrates:

36g
Fiber:

1g
Sugar:

6g
Protein:

5g