Many people like to share different recipes using fresh asparagus, but canned asparagus is wonderful to cook with as well. This article includes some canned asparagus recipes that are delicious, easy to make, and more affordable than using fresh asparagus. Here are the 10 best canned asparagus recipes that you can make in less than 30 minutes.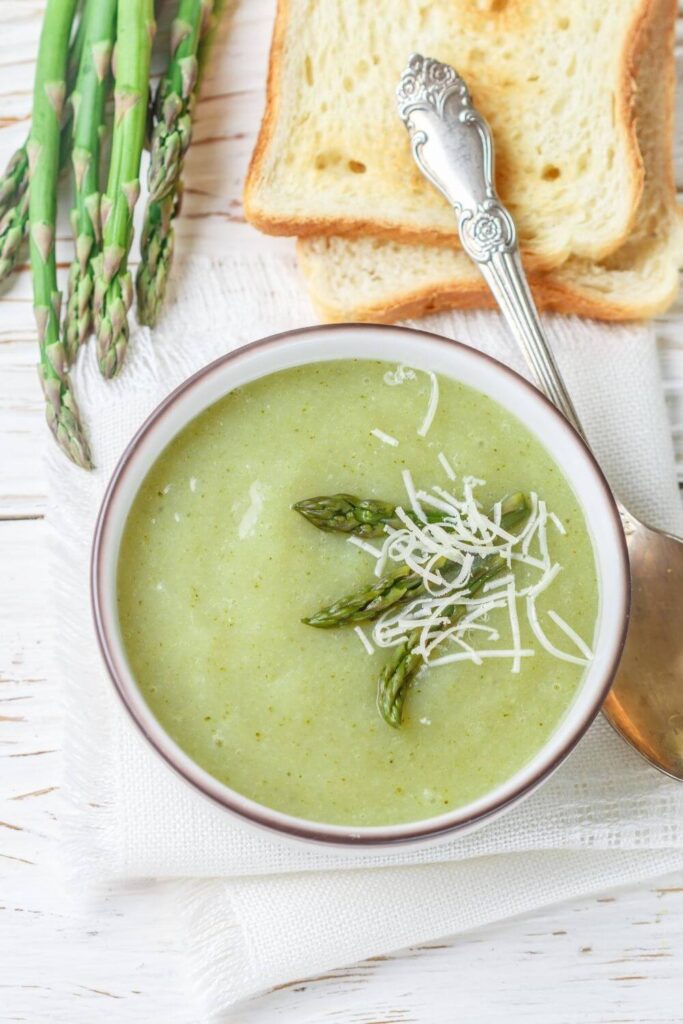 1. Canned Asparagus Soup
There's nothing easier, quicker, or more delicious than this canned asparagus soup. Using high-quality canned asparagus is the only thing you need to care about. The milk and butter are optional as the soup is surprisingly rich without them.
Ingredients
1 (15 ounces) can of asparagus
1 (14.5 ounces) can of chicken broth
½ cup milk (optional)
1 tbsp butter (optional)
Salt and pepper, to taste
Instructions
In a blender or food processor, blend the asparagus with the can of chicken broth until completely smooth.
In a medium saucepan, heat the blended asparagus and chicken broth together. Add the milk (if using) and bring the mixture to a low simmer. 
Add the butter, and season with salt and pepper to taste.
Cook the soup until thickened, about 5 to 7 minutes.
Serve the soup with toasted bread.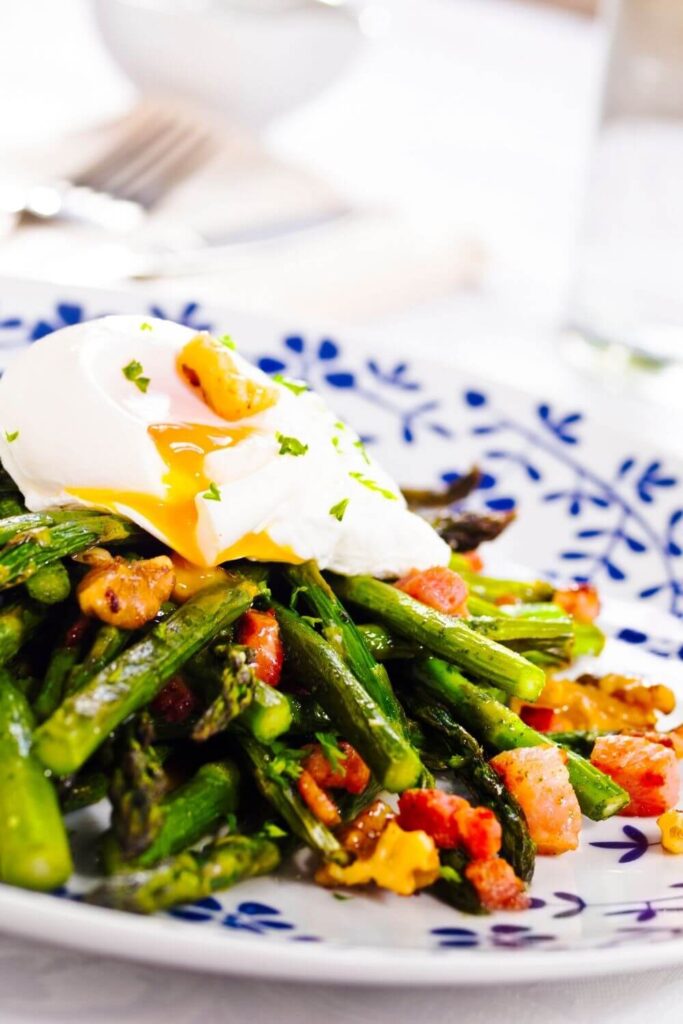 2. Canned Asparagus Salad
Because canned asparagus is already cooked, it takes about 10 minutes to make canned asparagus salad. This canned asparagus salad is a delicious combination of eggs, bacon, and asparagus, and your favorite vinaigrette.
Ingredients
1 tbsp oil
4 slices of bacon (I used turkey bacon)
1 can of asparagus, drained
2 medium garlic cloves, finely chopped
4 large hardboiled eggs, diced
2 tbsp vinaigrette, or to taste
Olive oil, optional
Lemon juice, optional
Lemon slices
Olives
Instructions
Heat the oil in a skillet set over medium heat.
Fry the bacon until golden brown and crispy, about 2 to 3 minutes. Remove from the heat and chop into bite-sized pieces.
Place the canned asparagus, bacon, hardboiled eggs, garlic, and 2 tbsp vinaigrette in a large bowl.
Add olive oil or lemon juice if desired.
Toss until well combined.
Serve the salad with lemon slices and a few olives.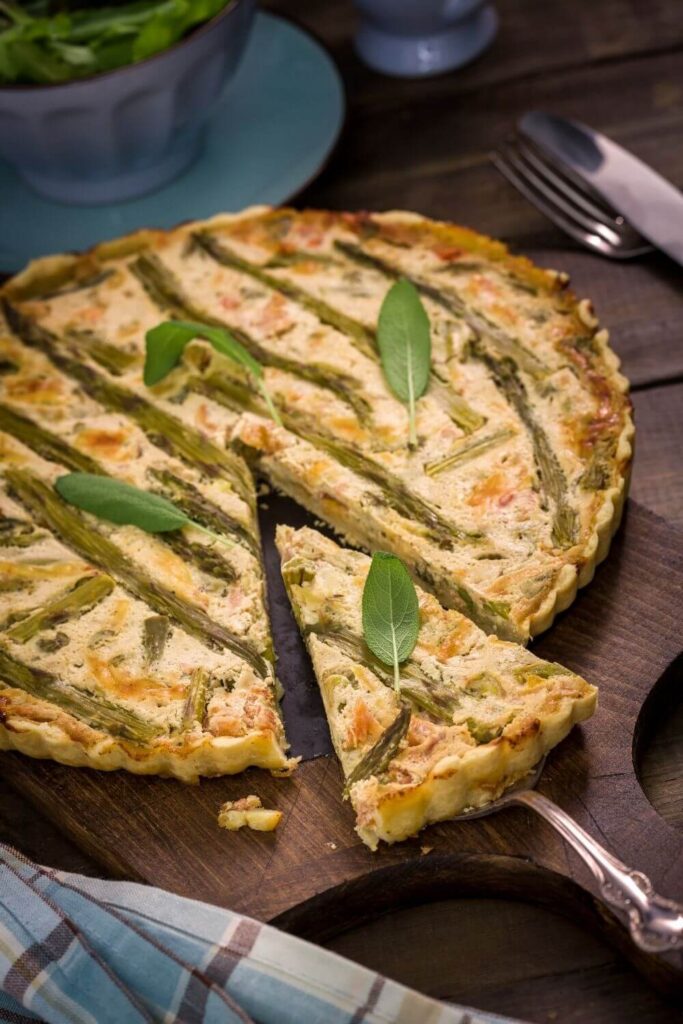 3. Canned Asparagus Quiche
This is a simple quiche recipe made with canned asparagus, mushrooms, Swiss cheese, and a few seasonings. The canned asparagus imparts a beautiful green contrast to the egg mixture in this dish.
Ingredients
1 Pillsbury pie crust
1 can of cut asparagus, well-drained
1 can of sliced mushrooms, well-drained
1 cup shredded Swiss cheese (4 ounces)
2 tbsp All-purpose flour
3 eggs, slightly beaten
½ cup half-and-half
½ tsp salt
⅛ tsp pepper
⅛ tsp ground nutmeg
Instructions
Preheat the oven to 350 F. 
Prepare the pie crust according to the package directions. 
Add the canned asparagus and mushrooms to the crust.
Toss the cheese with the flour in a large bowl. 
Add the eggs, half-and-half, salt, pepper, and nutmeg to the cheese mixture, and whisk it together until combined. 
Pour the egg mixture over the asparagus and mushroom mixture.
Bake the quiche for 55 to 60 minutes, or until a knife inserted into the center comes out clean. 
Allow the quiche to cool for 5 minutes before serving.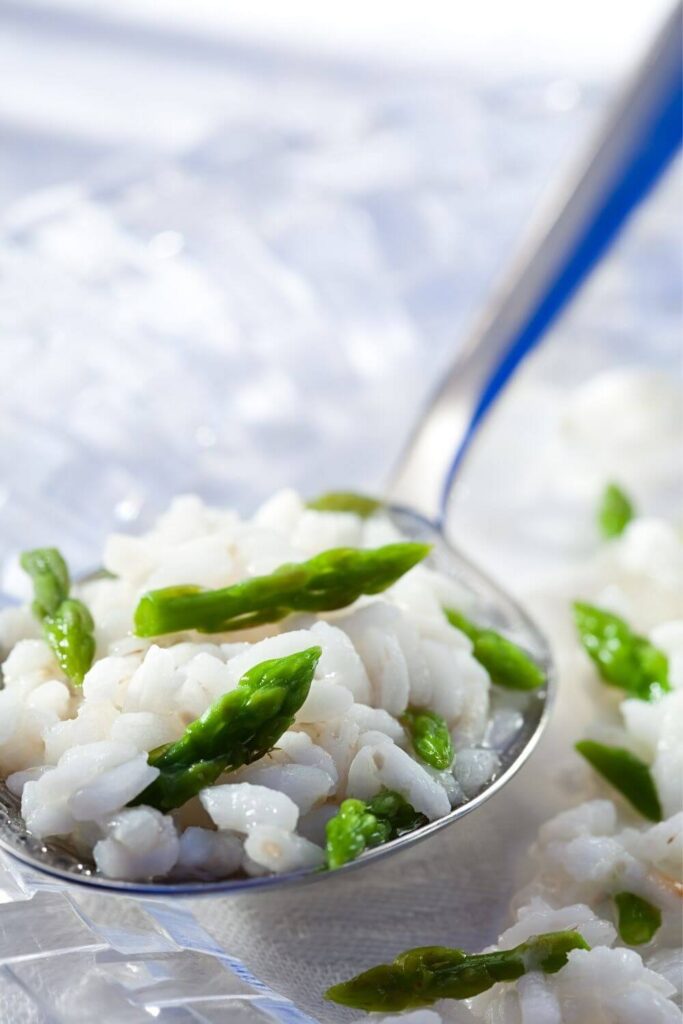 4. Canned Asparagus Rice
This is a simple canned asparagus rice dish that includes some Parmesan cheese for some savoriness. This rice is creamy and buttery, and perfect as a side dish for your favorite protein.
Ingredients
3 tbsp butter, divided
1 small sweet onion, diced
1 clove of garlic, minced
1 cup cooked white rice
1 can of asparagus, drained
2 cups vegetable stock
2 tbsp freshly grated Parmesan cheese
1 pinch salt and ground black pepper, or to taste
Instructions
Melt 2 tbsp of the butter in a 3-quart saucepan set over medium heat. 
Add the onion and cook until it becomes translucent, about 2 minutes. 
Add the garlic and cook for another minute. Add the rice, asparagus, and stock. 
Reduce the heat to medium-low and cover with a tight-fitting lid.
The rice should be stirred occasionally to prevent sticking. 
Cook for about 10 minutes until the rice is tender.
Remove the pan from the heat and stir in the Parmesan cheese and remaining butter. 
Serve hot.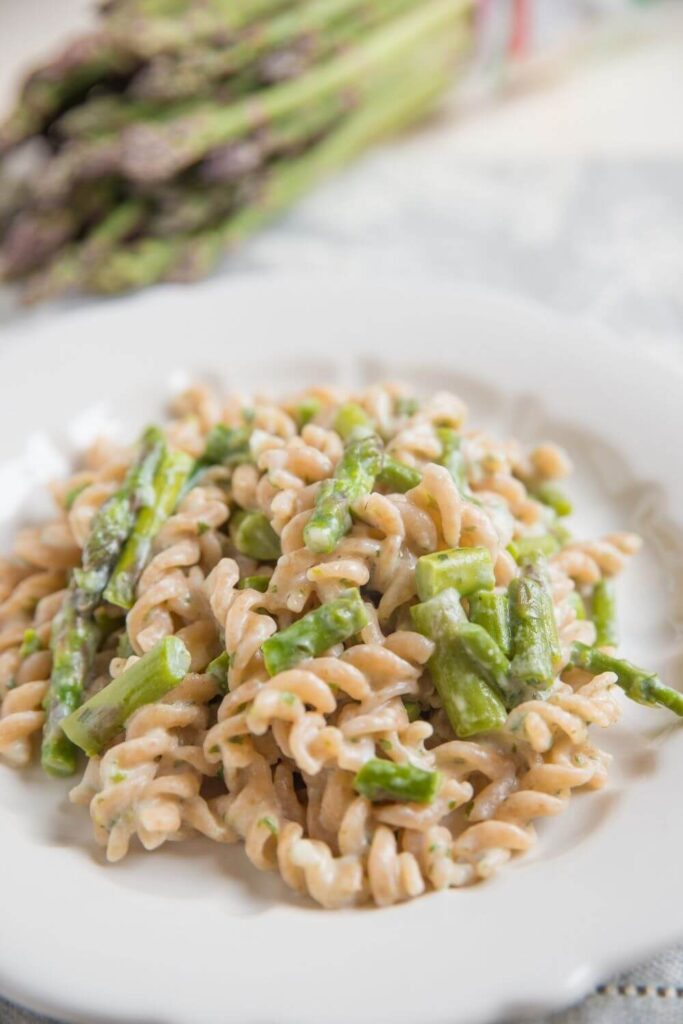 5. Canned Asparagus Pasta
This canned asparagus pasta is delicious and easy to make and includes tomatoes, tuna, and dried chili for a savory and spicy dish. Pasta recipes are one of the best ways to use your canned asparagus.
Ingredients
1 package of dried pasta
2 tbsp olive oil
2 cloves of garlic, chopped
1 dried red chili pepper, sliced with seeds removed
1 cup cherry tomatoes, halved
1 can of tuna (You can also use shredded chicken)
1 can of asparagus, drained
Pinch of salt and pepper
Instructions
Cook the pasta according to the package instructions.
Heat the olive oil in a large skillet. Add the garlic and chili, and cook for about 2 minutes or until fragrant.
Add the cherry tomatoes and canned tuna.
Add the canned asparagus and cook, stirring, for 2 minutes.
Add the cooked pasta to the asparagus mixture and toss until combined and heated through, about 1 minute.
Season the pasta with salt and pepper to taste.
Serve it hot.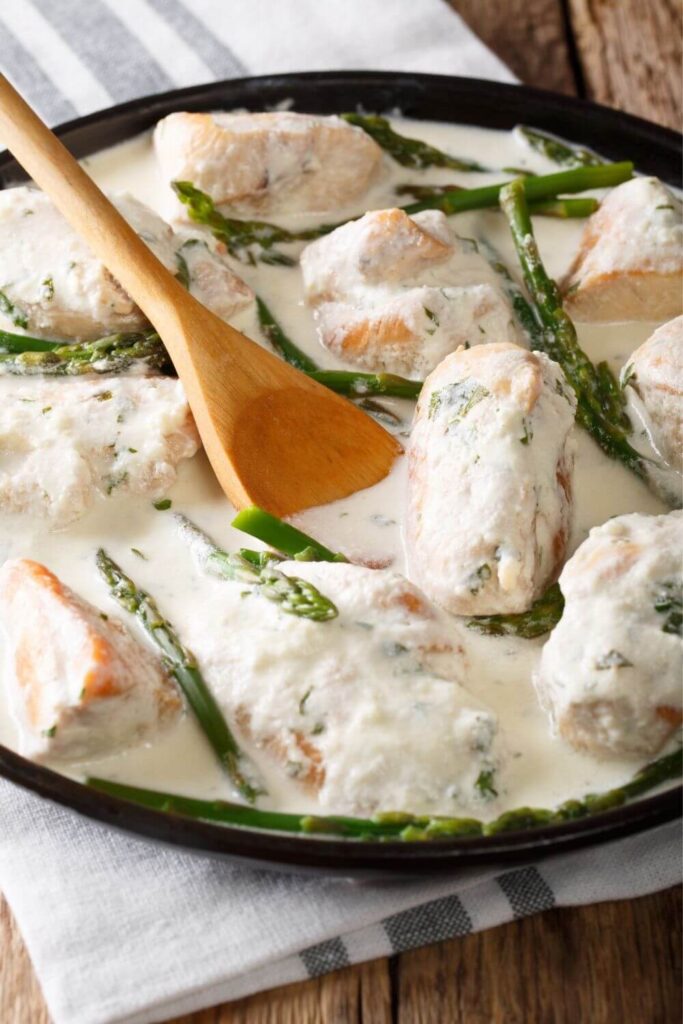 6. Canned Asparagus With Chicken
This is one of the easiest recipes for chicken with asparagus. You can serve this recipe with cooked rice, boiled pasta, or salad.
Ingredients
1 cooked chicken, boneless
1 can of asparagus, drained
1 can of asparagus soup
1 ½ cup heavy cream
2 cups grated cheddar cheese
Salt and black pepper, to taste
Instructions
Preheat the oven to 350 F.
Combine the chicken with the canned asparagus, asparagus soup, heavy cream, and cheddar cheese in a bowl.
Season the mixture with salt and pepper and toss it to combine.
Pour the mixture into a baking dish.
Bake for about 10 minutes or until cheese is melted.
Serve it with cooked rice, boiled pasta, or salad, or as a dipping sauce for chips or crackers.
7. Canned Asparagus Casserole
Canned asparagus casserole comprises simple ingredients such as cream of mushroom soup, cheddar cheese, crushed buttery round crackers, and a few seasonings. It is a wonderful, hearty dish to have on a cold day.
Ingredients
4 eggs
Butter or vegetable oil, for greasing
3 (15 ounce) cans of asparagus, drained
2 cans of condensed cream of mushroom soup
2 cups crushed buttery round crackers
4 ounces grated cheddar cheese
Instructions
Fill a saucepan with cold water and add the eggs. 
Bring the pot of water to a boil and immediately remove it from the heat. 
Leave the eggs in the hot water for 10 to 12 minutes. Then, remove the eggs from the water and allow them to cool.
Once cooled, peel and slice the eggs.
Preheat the oven to 350 F. 
Grease a casserole dish with butter or vegetable oil.
Arrange the canned asparagus in the casserole dish and top it with the cream of mushroom soup, sliced eggs, and crushed crackers. 
Cover the asparagus casserole with aluminum foil.
Bake for 25 minutes until the topping is golden brown.
Remove from the oven and top with the grated cheese. Cover the casserole and bake it until the cheese is melted, about 5 minutes.
Let the casserole cool for 5 minutes.
Serve and enjoy.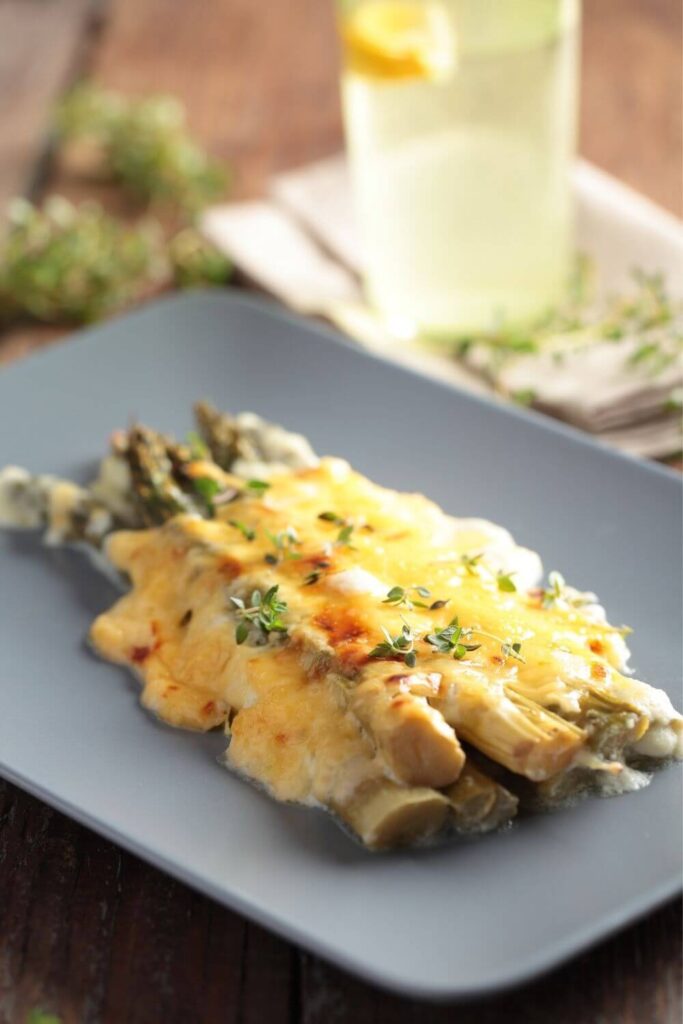 8. Canned Asparagus With Cheese Sauce
Canned asparagus with cheese sauce is wonderful with pork or lamb chops, pasta, and fried chicken breasts. Consider serving it anytime you need an easy dinner to prepare that is also delicious.
Ingredients
1 can of asparagus, drained
¾ cup plain fat-free Greek yogurt
½ tsp white vinegar
3 large egg yolks
½ tsp Dijon mustard
¼ tsp kosher salt
Freshly ground black pepper
½ cup grated sharp cheddar cheese
Cooked, chopped bacon, for serving
Instructions
Place the canned asparagus on a microwave-safe plate and microwave it for 1 minute.
Combine the yogurt with white vinegar, egg yolks, mustard, salt, and pepper in the top pan of a double boiler. 
Set over a simmering pot of water. Stir the mixture constantly over simmering water until the sauce is thick enough to coat the back of a spoon, approximately 6 to 8 minutes. 
Stir in the cheese until melted. Serve immediately with asparagus and bacon.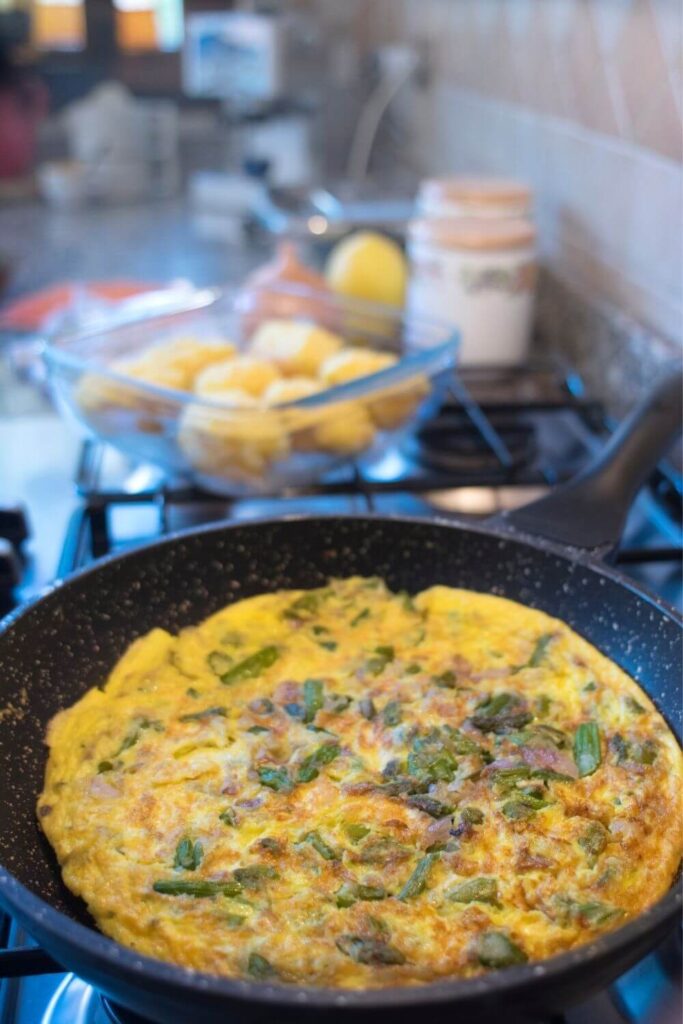 9. Omelet with Canned Asparagus
This is a simple omelet using canned asparagus. Since canned asparagus is so tender, it is excellent for this dish as it has an earthy, grassy flavor that pairs well with the richness of eggs and cheese.
Ingredients
1 can of asparagus
2 large eggs
Salt, to taste
Black pepper, to taste
Oil, for frying
½ cup grated cheddar cheese
Instructions
Drain the asparagus, and place it in a bowl. Beat the eggs and season them with salt and black pepper. 
Heat 1 tbsp of oil in a large skillet; add the asparagus and cook it until it becomes very soft.
Transfer the asparagus into a bowl and mash it with a fork. Alternatively, you can use a blender if desired.
Add the mashed asparagus to the egg mixture.
Add the grated cheddar cheese to the egg mixture and stir until combined.
Add the egg mixture to the skillet and cook until set.
Serve the omelet with salad and toasted bread.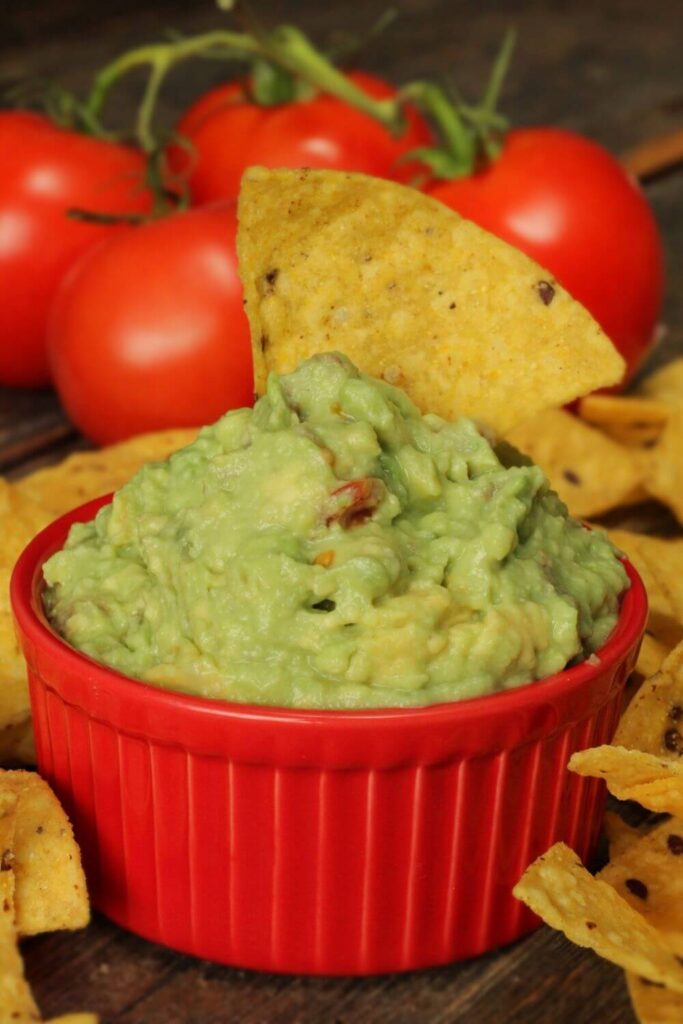 10. Canned Asparagus Dip
This is a tasty and easy-to-make dip that uses canned asparagus, cream cheese, mustard, as well as seasoning. Serve it with tortilla chips, potato chips, pretzels, or crackers for a tasty appetizer for any get-together.
Ingredients
3 tbsp extra virgin olive oil
1 can of asparagus
1 to 2 garlic cloves, minced
125 g (4 ounces) dairy-free cream cheese
1 tbsp Dijon mustard
1 tbsp chopped fresh basil
1 tbsp chopped marjoram leaves
1 heaping tbsp chopped fresh dill
2 shallots, chopped
Salt and pepper, to taste
Instructions
Heat the vegetable oil in a large skillet set over medium heat. Add the canned asparagus and cook, while stirring, for 4 minutes. Add the garlic and keep cooking until the asparagus becomes super tender.
Remove the mixture from the heat and allow it to cool for 5 minutes.
Once the mixture is cool enough, transfer it to a blender and pulse until it is smooth.
Add the cream cheese and mustard, and blend again. Then, add the basil, marjoram, dill, and shallots, and blend until smooth and creamy.
Season the mixture with salt and black pepper to taste. If desired, you can also add some lemon juice and olive oil to taste.
Transfer the dip to the fridge and chill it for 2 hours.
Serve the dip cold with crackers, chips, or tortilla chips.