Remind Dad he's your best friend—and you're his favorite—with this quick and easy Father's Day gift idea with free printable tag.
Post may include affiliate links to help support my Diet Coke habit.
Sometimes it's really hard to come up with a Father's Day gift idea, especially if you've celebrated multiple Father's Days.
You for sure want to avoid these 10 gifts, and yet that 3D TV Dad wants is probably out of the budget.
At least it's out of mine.
But who doesn't love a new pair of earbuds? I'm constantly misplacing mine (or the kids steal them), and I love having a spare pair in multiple places.
Plus, unless you're going for a pair of serious audiophile-friendly earbuds, you can get a pretty great pair for under $10.
These Panasonic ErgoFit In-Ear Earbud Headphones in blue and orange are around $7 and have fantastic reviews. The Panasonic earbuds in black are around $12 and include a mic/controller, which is a must-have for Nathan and which I find super handy for conference calls or long chats with my mom.
Of course, wireless earbuds are a new thing and my husband's latest fave. While AirPods are the hot ticket, if you want something that fits a more modest Father's Day gift budget, these wireless headphones are a good pick.
Pair your pair of new earbuds or AirPods ith this super cute Father's Day printable gift tag, and you're sure to be Dad's favorite.
Nothing says "I love you the BEST!" and "I'm totally you're favorite!" like the perfect practical gift AND a reminder YOU are Dad's "best bud."
I've created both a PDF with a single tag and one with multiple tags in case you're using this as a fun Father's Day activity with a small group or class.
Note: They print slightly darker than pictured. Natural light was not my friend when photographing.
To download your Father's Day printable gift tag, click on an image or link below the image and save the file(s) to your desktop. But before you do, please read the following rules:
Is This Really My Life printables are for personal use only.
If you decide to re-post or use the image, you MUST cite the source and include a link to this post.
Personalization and other customizations are not available on free printables; they're offered "as-is."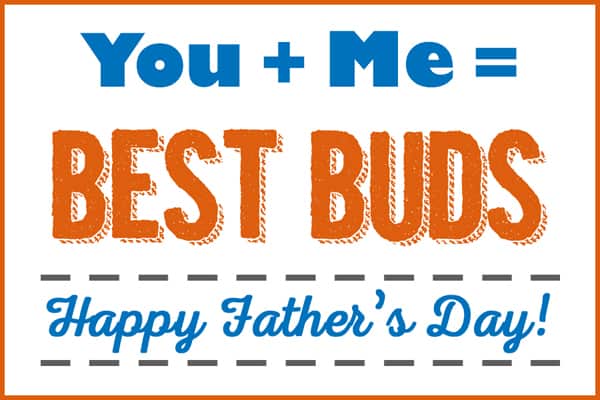 Download the free SINGLE Father's Day printable gift tag HERE.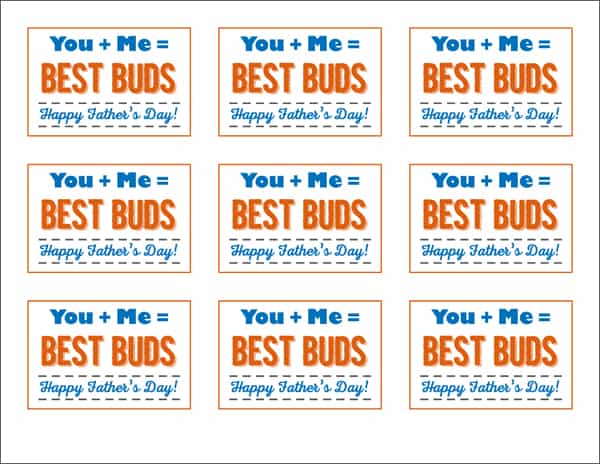 Download the free FULL PAGE Father's Day printable gift tag HERE.
If you're looking for another fun Father's Day gift idea, you could totally use this Mountain Dew printable gift tag for Dad. Nothing like keeping Dad happy and caffeinated!
Want to know what NOT to give Dad? Check out this awesome list of 10 gifts to avoid giving Dad on Father's Day.