These banana crumb muffins are a family favorite—super easy and yummy, I had to share the recipe again. I first posted this muffin recipe over three years ago and surprisingly the photos weren't bad. But hello, any excuse to whip up a batch of these crumbly, brown sugary, banana-y muffins is fine by me.
.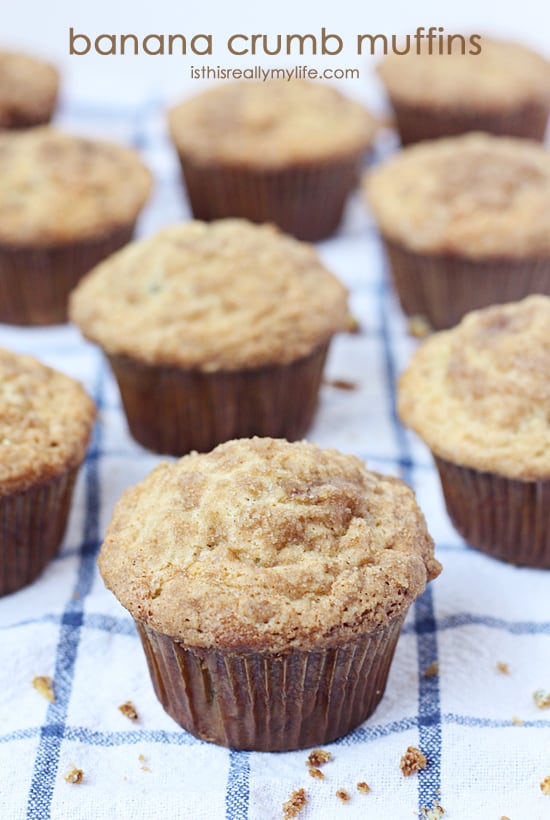 .
For some reason more of the topping was absorbed than usual (see my original post for comparison); I think it was due to softer than usual butter. But that doesn't mean these banana crumb muffins, while not as crumby, weren't absolutely delicious. They're so good, they could almost be considered dessert.
But if you consider them dessert, then you don't get to eat real dessert, so don't do that.
.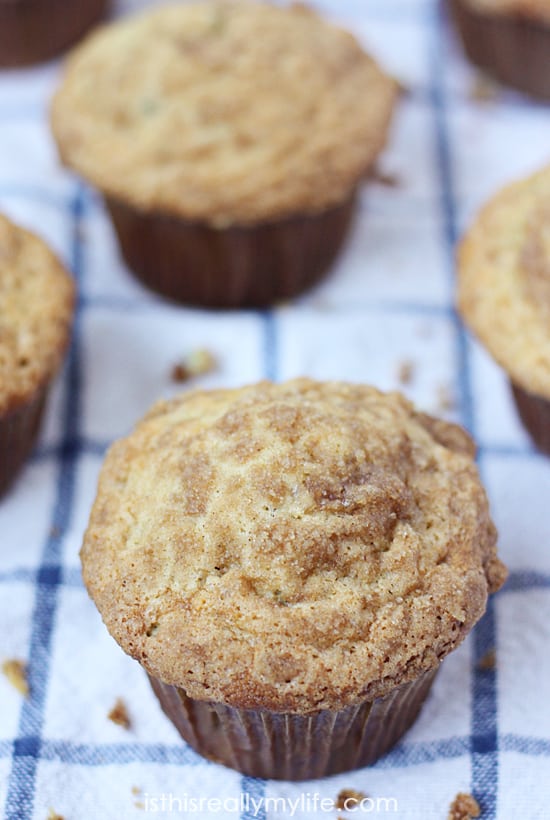 .
While the top may not overflow with crumble, it does have almost a candied texture and flavor, and that's so all right with me.
.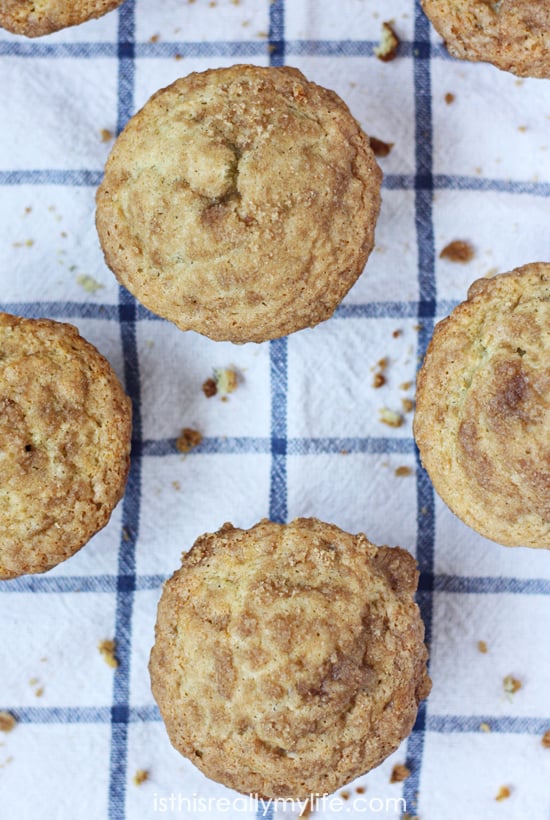 .
Printable recipe for banana crumb muffins below. Enjoy!
.

Delicious banana muffins with a sweet, crunchy topping.
Author:
Emily ~ isthisREALLYmylife.com
Ingredients
1½ cups flour
1 tsp baking soda
1 tsp baking powder
½ tsp salt
3 bananas, mashed
¾ cup white sugar
1 egg, lightly beaten
⅓ cup butter, melted
⅓ cup packed brown sugar
2 T flour
⅛ tsp ground cinnamon
1 T butter
Instructions
Preheat oven to 375 degrees F (190 degrees C). Lightly grease 12 muffin cups or line with muffin papers.
In a large bowl, mix together flour, baking soda, baking powder and salt. In another bowl, beat together bananas, sugar, egg and melted butter. Stir the banana mixture into the flour mixture just until moistened. Spoon batter into prepared muffin cups.
In a small bowl, mix together brown sugar, 2 tablespoons flour and cinnamon. Cut in 1 tablespoon butter until mixture resembles coarse cornmeal. Sprinkle topping over muffins and gently press into batter.
Bake in preheated oven for 18 to 20 minutes, until a toothpick inserted into center of a muffin comes out clean.
.
If you're looking for more yummy muffin and breakfast-related recipes, you should browse my breakfast recipes Pinterest board.
.
Follow Emily Hill's board breakfast recipes on Pinterest.
.

Feel free to "like" is this REALLY my life? on Facebook. It won't always earn you an extra entry in a giveaway but it will give you warm fuzzies.
Don't forget to sign up for free is this REALLY my life? updates via RSS or email so you don't miss a single awesome post.
.