This past Sunday I stayed home from church with a sick little George. It gave me some time to get a little breakfast ready for the rest of the family before they returned at noon. With some seriously ripe bananas on the counter, I went for one of my favorite muffin recipes: banana crumb muffins.
I served them with some belated St. Patrick's Day waffles (waffle batter with green food coloring and green sugar sprinkles) and our ever favorite applesauce cups. George, with his super mad math skills, figured out everyone could eat two.
Love that kid! And totally love breakfast for lunch or dinner!
…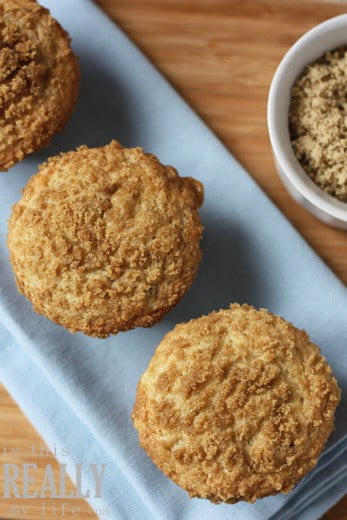 …
Printable recipe for banana crumb muffins below.
…

Delicious banana muffins with a sweet, crunchy topping.
Author:
Emily ~ isthisREALLYmylife.com
Ingredients
1½ cups flour
1 tsp baking soda
1 tsp baking powder
½ tsp salt
3 bananas, mashed
¾ cup white sugar
1 egg, lightly beaten
⅓ cup butter, melted
⅓ cup packed brown sugar
2 T flour
⅛ tsp ground cinnamon
1 T butter
Instructions
Preheat oven to 375 degrees F (190 degrees C). Lightly grease 12 muffin cups or line with muffin papers.
In a large bowl, mix together flour, baking soda, baking powder and salt. In another bowl, beat together bananas, sugar, egg and melted butter. Stir the banana mixture into the flour mixture just until moistened. Spoon batter into prepared muffin cups.
In a small bowl, mix together brown sugar, 2 tablespoons flour and cinnamon. Cut in 1 tablespoon butter until mixture resembles coarse cornmeal. Sprinkle topping over muffins and gently press into batter.
Bake in preheated oven for 18 to 20 minutes, until a toothpick inserted into center of a muffin comes out clean.
Pin It
…