I love that I have friends who know how to cook. It means I'm never at a loss for a delicious recipe. Stephanie and Vanessa have an endless supply of yumminess on their sites, and my friend Julie knows how to make a mean bowl of Deer Valley granola.
And let's not forget Amber's magic marshmallow treats. Oh my gosh, those are SO dang good!
Okay, now I need one. Or two. Or maybe the entire pan.
I may need some of Julie's mom's coconut bread as well.
Great. Now I'm hungry. And drooling all over the keyboard.
Last week I tried a recipe I'd had on file since our last neighborhood progressive dinner and bake-off. It was Taco Tuesday and I wanted to try something different from our typical ground turkey tacos. When I saw my friend Megan's recipe for baked creamy chicken taquitos—and I'd totally starred it—I knew it was going to be Tuesday night's main dish.
Holy cow, these chicken taquitos were yummy. And easy. Oh, and yummy. (Wait, did I already say they were yummy?)
I had most of the ingredients for the mixture on hand, and once I figured out you really and truly needed to heat those corn tortillas to near scalding so they wouldn't crack while rolled, these were a piece of cake to assemble. A little baking (no frying) and the taquitos were ready.
And they were a huge hit with the entire family—the entire family meaning everyone but our pickiest eater who subsists only on cheese roll-ups (flour tortillas with melted cheese), yogurt and Goldfish crackers.
I wish I'd doubled the recipe because they were just as good the next day. We had so few leftovers and I was quite sad.
These creamy chicken taquitos would make a great appetizer too. Or midday snack. Or late-night snack. Heck, they're yummy any time of day.
Good luck eating less than a half dozen in one sitting.
Printable recipe for creamy chicken taquitos below.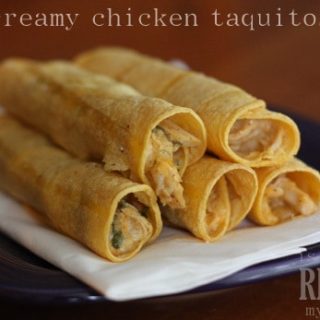 Creamy Chicken Taquitos
These creamy chicken taquitos are baked, not fried. Super easy to assemble (you can even make the filling the day before and refrigerate) and delicious!
Ingredients
4 oz. reduced-fat cream cheese
¼ cup salsa verde
1 T fresh lime juice
½ tsp cumin
1 tsp chili powder
½ tsp onion powder
¼ tsp garlic powder
3 T chopped cilantro
2 T sliced green onions
3 cups shredded cooked chicken
1 cup shredded pepper jack cheese
⅓ cup shredded Mexican cheese
18 small corn tortillas
Kosher salt
Cooking spray
Instructions
Preheat oven to 425 degrees. Line a baking sheet with foil and lightly coat with cooking spray.
Heat cream cheese in microwave for about 20 seconds until soft and easy to stir. Add salsa, lime juice, cumin, chili powder, onion powder and garlic powder. Stir to combine.
Add cilantro, green onions, chicken and cheese and mix well.
Place 4 tortillas between two damp paper towels and heat in the microwave for 20 to 30 seconds until hot. (If they crack when rolled, heat them longer.)
Place 2 to 3 T of the chicken mixture on the lower third of the tortilla keeping it a good half inch from the edge. Roll up the tortilla as tightly as you can.
Place tortillas seam side down on baking sheet. (They can be close together as long as they don't touch.) Spray tops lightly with cooking spray and sprinkle with kosher salt.
Bake for 15 to 20 minutes or until crisp and ends turn golden brown.
Notes
* To cut down on time, use a pre-cooked rotisserie chicken. * For extra flavor, use grilled taco chicken.