This week is all about back to school thanks to guest posts by some of my dearest blogging friends. Today's back-to-school dinner tradition from Vanessa will have you wishing you were one of her girls. (I wish that more often than I'd like to admit.)
…
Years ago I was inspired by Stephanie of NieNie Dialouges to do a back-to-school dinner of my own. My girls have only been in school for three years so we are still newbies at this. But is has quickly become a tradition that I know is going to stick around. Family traditions bring back fond memories of my childhood. So hopefully this new one we started in our little family will bring them the warm fuzzies.
Most importantly hopefully it counteracts all the times that I hide from them in my pantry with a bag of chocolate chips crying. Ghirardelli milk chocolate brand of course. Four girls can be tough.
For example some days it looks like this:
…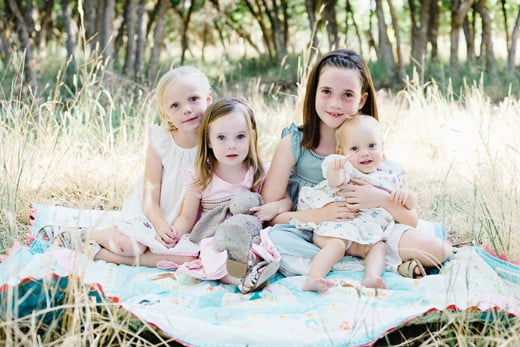 Photo by Kim Orlandini
…
Most days it looks like this:
I've gotten sidetracked; let me give you the steps to your own beautiful annual back to school dinner.
…
1. Chose a yearly family theme
I will think, pray, brainstorm ideas a couple weeks before we have our annual dinner. Then all of the sudden the theme always hits me…usually when I am driving around my fancy minivan taking kids places. Also I drive around with a bag of the previous mentioned chocolate chips; it is in my center console, shh no telling.
Some families just chose one word, others a verse from scripture, an inspiring quote, things along that line. Two years in a row our themes have stemmed from a song. Usually the theme reflects something we need to work on as a family.
2013 theme: Matthew 5:16 Let your light so shine before men, that they may see your good works, and glorify your Father which is in heaven.
2012 theme: Joshua 1:9 Be strong and of a good courage; be not afraid…for the Lord thy God is with thee whithersoever thou goest. We were moving to Costa Rica as a family and needed extra courage!
2011 theme: Jesus said love everyone, treat them kindly too. When your heart is filled with love, others will love you. (LDS Primary song)
…
2. Plan a mini lesson to go along with the theme
This is all about your kids and no one wants to listen to a long-winded thing right before school. Heck, who wants to do that themselves? I keep mine under ten minutes. They usually include a song, a scripture or scripture story, and a personal story. My girls love hearing stories about their parents as kids, so we will share how we let our light shine and stood up for someone at school. Or how we were really nervous for a test and prayed for courage. My favorite part of the lesson is when I play the song and we dance around the house like crazies. This year my favorite band, The Lower Lights, had a song that matched our theme perfectly.
…
…
3. Dust off your holiday decorations
No need to buy anything for this. Dust off any holiday decorations you might have. My Christmas decorations were re-created very nicely for our latest dinner. One year I believe I used our Valentine's Day decorations. I even will pull out Thanksgiving plate name tags, random ribbon, old candles. One year I went to an empty field and cut weeds with scissors for our table.
4. Make your kids feel special
I cook up what my sweet girlies want to eat. Your menu only needs to impress them and this isn't a night to try new food or make them eat something they just don't want to. I will use old birthday crowns, ask them to come in their favorite dress, tie a piece of ribbon around their heads. So many little things you can do that just take a minute or two to make them feel special. Then just sit and talk to them. Laugh and be silly!
5. Choose a family goal & display it
The most important thing to me is to share with your family how you are going to put this beautiful dinner and theme to work. Have a very simple, doable goal. Then have something in your home that will constantly remind you of this goal. For instance this year our goal was to let our lights shine at school. By being nice to others, showing our talents, things of that nature. So we ask them when we remember after school to tell us how they let their light shine. And then in the busiest room in the house in plain sight we have this framed, it is constantly reminding us of our family goal.
Wait. Take that back. MOST importantly is number 6.
6. Afterwards eat chocolate chips in your pantry for a job well done.
…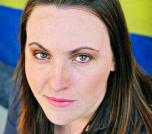 Vanessa Brown is a constant inspiration to me. When I grow up, I want to be a fun mom like her. You know, take my kids on nature walks, plan and execute awesome parties, introduce them to new foods, new people and new countries. Vanessa was one of the first bloggers who went from online friend to real-life friend and I'm forever grateful to her for that.
…
…


Feel free to "like" is this REALLY my life? on Facebook. It won't always earn you an extra entry in a giveaway but it will give you warm fuzzies.
Don't forget to sign up for free is this REALLY my life? updates via RSS or email so you don't miss a single awesome post.
…