You think I'm kidding. I'm not. AT ALL. Just ask my mom who witnessed my first attempt at making Bakerella's famous cake pops. It all started with my sister asking me to be in charge of the food for my cousin's baby shower and me never wanting—for some strange reason—to do anything easy. I found the cutest mini cookie cutter in the shape of a onesie and originally thought I'd use it to cut fondant and lay it on top of a cupcake, but of course I'd already done the fondant thing for Evonne's cupcakes. And baby shower cupcakes are like prom dresses: you can't show up at a party with the same outfit twice.
Then I got this crazy brilliant idea to finally break open Bakerella's Cake Pops cookbook and try my hand at these popular treats.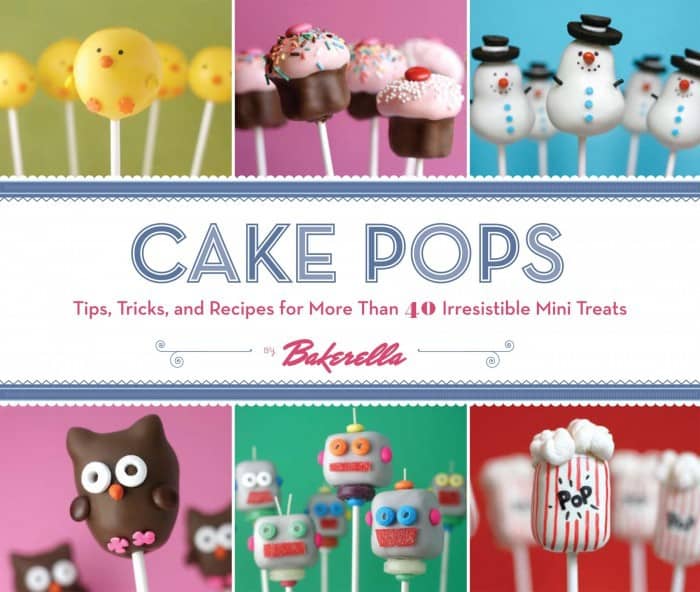 Bakerella can form those little bites of cakey goodness into everything from snowmen to Superbowl treats; I should be able to do the same, right? (No, I didn't take into account her extensive experience or take a second look at the examples on the front cover of her cookbook before embarking on my cake pop journey. Yes, I totally should have.)
In my mind it was easy enough: make cake pops; form cake pops into the shape of a oneise; dip in light blue chocolate; embellish with "Team Jacob" in edible marker and some sweet candy stars. (My new nephew's name is Jacob and while he was in the NICU we were all on his team!)
I also needed to make those cookie dough-filled cupcakes (so the cake pop stick has some support), top with decadent homemade chocolate frosting and shower with blue sugar crystal sprinkles. Well, the cupcakes were a cinch, but those cake pops? I am still having flashbacks.
The recipe for cake pops is innocent enough: 1 box cake mix baked according to package directions; ⅔ to 1 can frosting. The end. Here's my version of the story.
Bake chocolate fudge cake and crumble into the tiniest of pieces.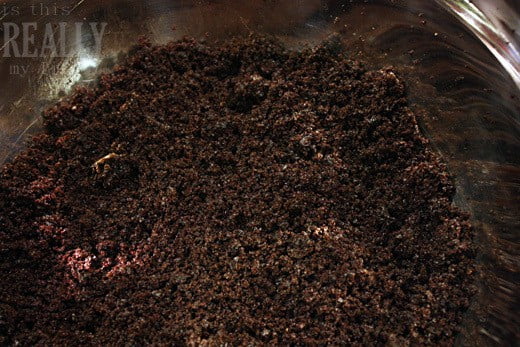 Note to self: Do not crumble in a large metal bowl if you want to take a decent photo.
Mix in cream cheese. (I only used about half a can because this cake mix was overly moist.)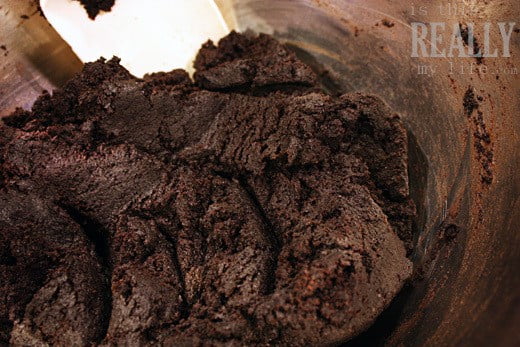 Same note to self on the metal bowl thing.
Use your favorite cookie dough scooper and form the mix into balls (aka cake bites). Freeze for 15 minutes or chill in the refrigerator for a couple hours.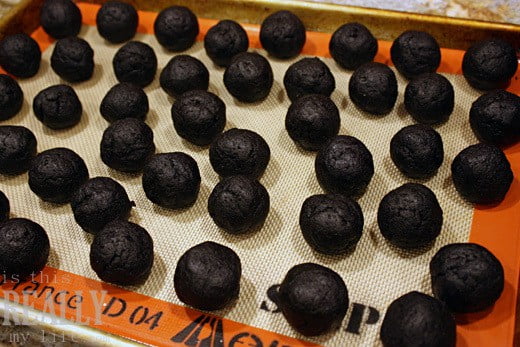 Work in tandem with your mom to form the chilled cake bites into onesie shapes. Have your mom remove a few cake bites from the freezer at a time as you form the shapes, and then she can finesse the shape once you pop it out of the cookie cutter. (Moms are good at finessing.)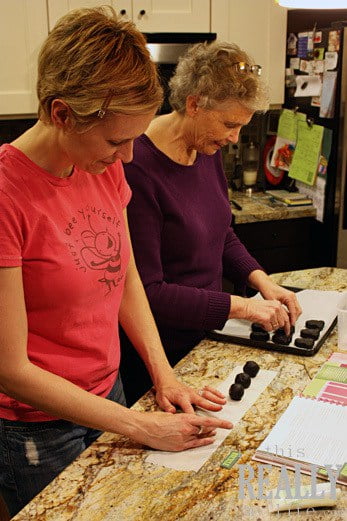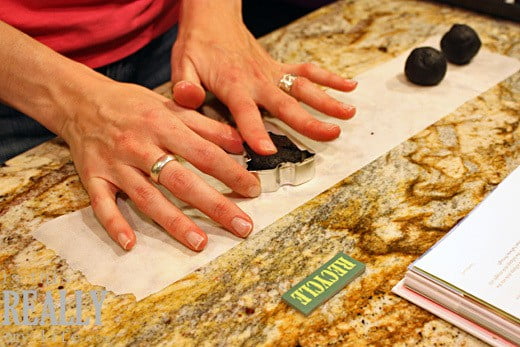 See my right middle finger? It's only a faint expression of what's going on inside my head. You can't tell but I'm mentally flipping off the cake bites at this point.
Here are the finished onesie cake pops before we re-chilled them so we could more easily dip them in the melted chocolate. What you don't hear (obviously) is me telling my mom they look more like Mickey Mouse ears than baby onesies.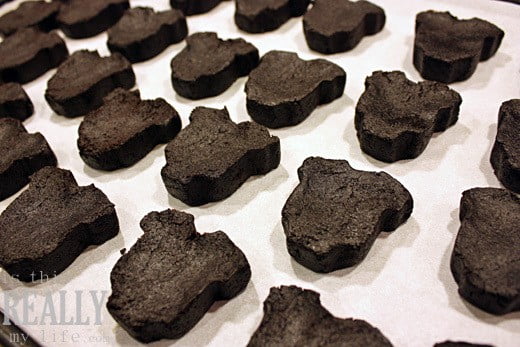 Time for dipping! And this is where it got really, REALLY fun! (That sentence is dripping with sarcasm, believe you me.) Because we'd pressed the cake bites into a flatter shape, I quickly discovered the popsicle sticks were too thick for the onesies. The first one completely fell apart as I tried to gently insert that danged stick (dipping it into the chocolate a bit first to secure its hold). It was a classic "you've got to be freaking kidding me!" moment. Good thing we had some bamboo skewers on hand, so we tried it with those. Much better than the popsicle sticks.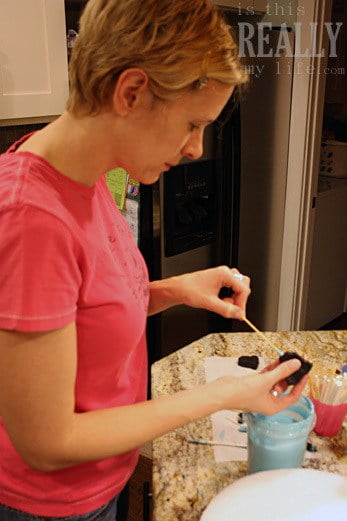 Note to self: Show Nathan how to focus the camera when he's taking the photos.
But guess what? Those onesies are also a lot longer and heavier than your typical cake pop, so when you dip it into the chocolate and ever so slowly pull it out, you can't turn it on its side and tap your wrist like Bakerella tells you to do in her book to remove the excess melted chocolate. If you do that, that handy bamboo skewer pokes right through the cake pop and splits it in half. You then you have two halves of what looks like Mickey Mouse's head floating in your melted chocolate. And those fetchers are nearly impossible to retrieve.
Oh, and I forgot to mention I didn't have Paramount Crystals to properly thin my chocolate so I went with the Googled suggestion of using a little shortening. That combined with me not knowing what the crap I was doing and using two different melting chocolates meant I badly tempered the chocolate and it came down with a severe case of those dreaded white spots. (I mentally flipped off the melted chocolate too.)
Anyway, after some trial and error, I found the best way to dip these babies was to leave them upside down as I pulled them out of the chocolate, and then slowly and gently swirl them as I used another bamboo skewer (I went through a lot of those that night) to scrape off any excess.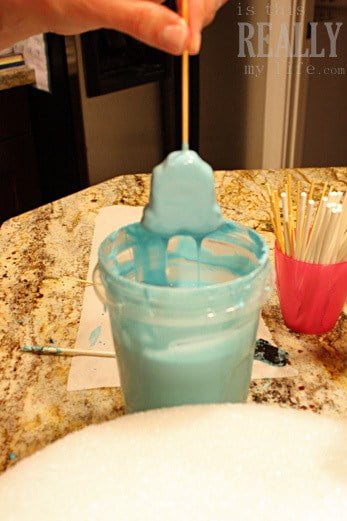 Same note to self about Nathan's photography skills.
And even then, it doesn't always work out.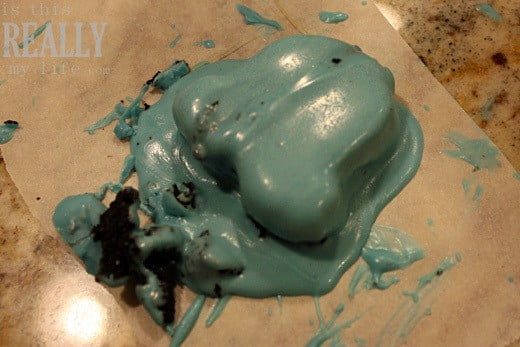 But all in all, they turned out all right. At least that's what my mom kept telling me.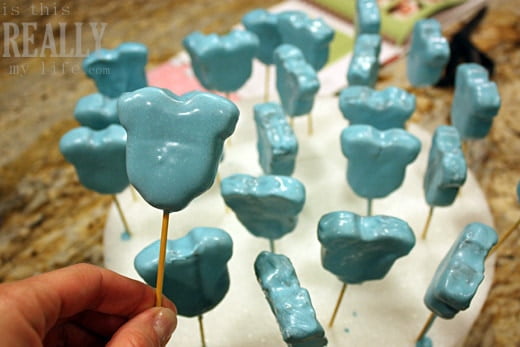 All that was left to do was embellish. I had ordered some edible markers and used the dark brown to write "TEAM JACOB" on the front.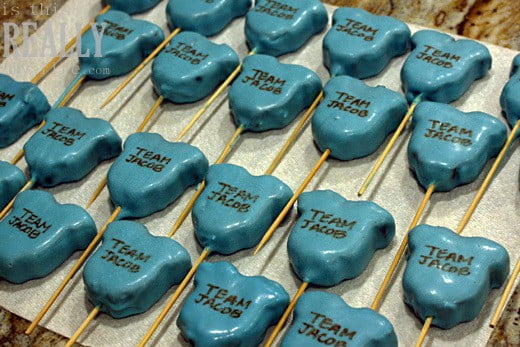 Then I had Nathan, who was oh-so-eager to help, attach the candy stars.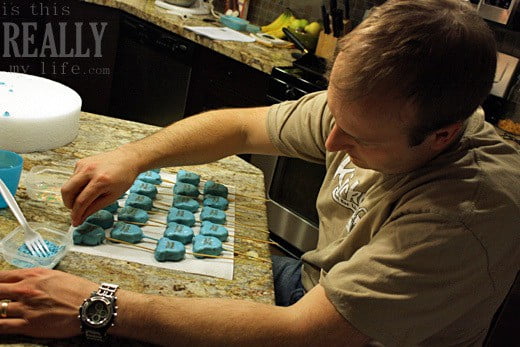 You can't see it but he has the biggest, happiest smile on his face because he's so excited to be accessorizing onesie cake pops.
He used a little melted chocolate and the back of a plastic fork (we'd had enough of those skewers) to place them above TEAM JACOB.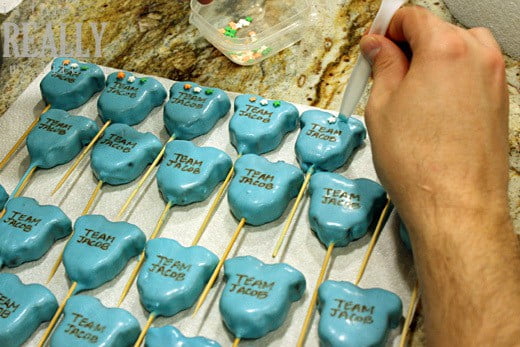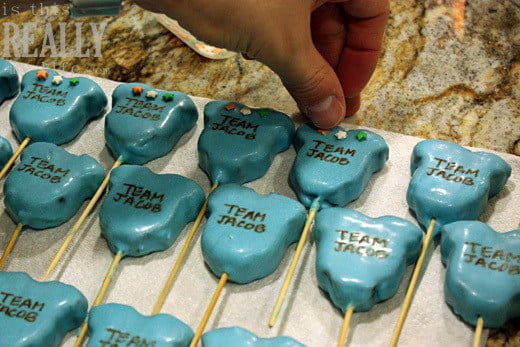 Voilà!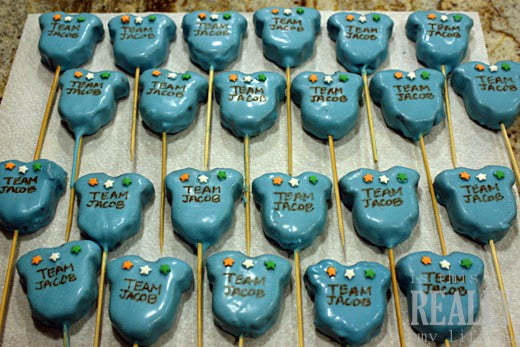 And now for the final reveal...the cookie dough-filled cupcakes adorned with the Team Jacob onesie cake pops!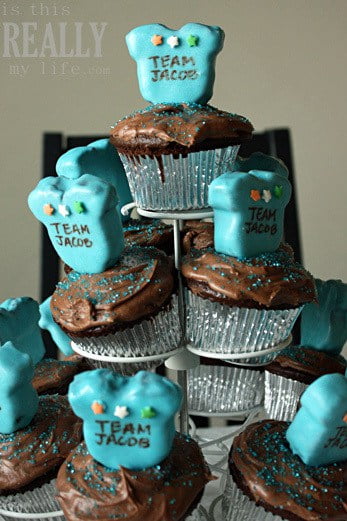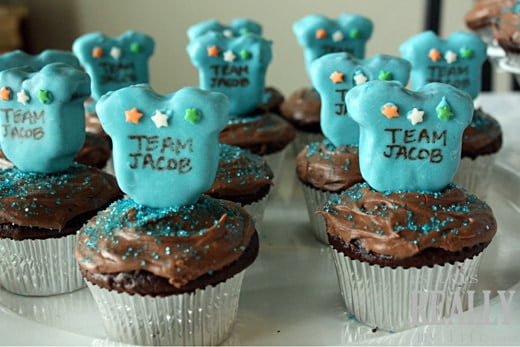 P.S. After all this, I think I prefer those Oreo truffles (1 package crushed Oreos mixed with 1 package cream cheese) over this whole cake bite thing. I'll try that next time...once I've recovered from this adventure.