This tropical berry smoothie features a blend of pineapple, mangoes and strawberries plus antioxidant-rich organic aronia berry concentrate.
.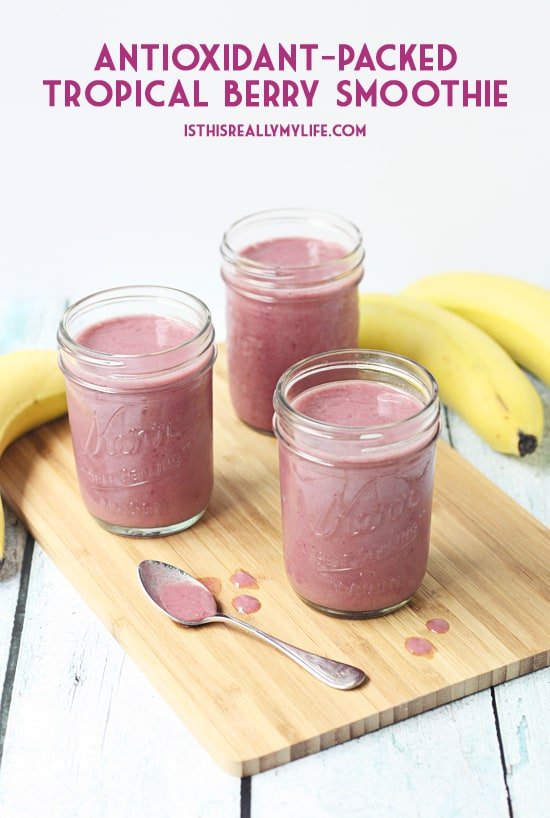 .
This is a sponsored conversation written by me on behalf of Superberries. The opinions and text are all mine.
.
Every time I make smoothies I wonder why I don't make smoothies more often. They're not hard, they taste good, they're good for you and the entire family loves them. And thanks to making too much of this antioxidant-packed tropical berry smoothie, I discovered some of them can be refrigerated for hours.
I've shared a handful of smoothies on this site, from my favorite island green smoothie to the slightly decadent copycat peanut butter moo'd smoothie, but I'm pretty sure none were as rich in antioxidants as this tropical berry smoothie.
Spinach leaves can only do so much...
.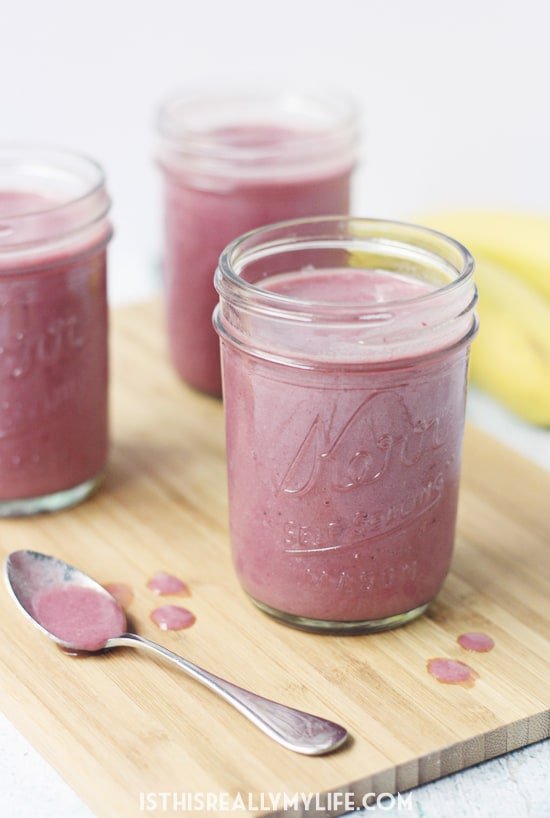 .
I lightened up this berry smoothie by using unsweetened almond milk instead of regular milk and low-fat yogurt instead of full fat. I also substituted my favorite light orange juice (Tropicana's Trop50) for the typical higher calorie, higher sugar standard. Throw in a frozen blend of tropical fruit (mangoes, pineapple, strawberries), banana and Organic Aroniaberry Concentrate and you have one delightfully delicious, good-for-you smoothie!
.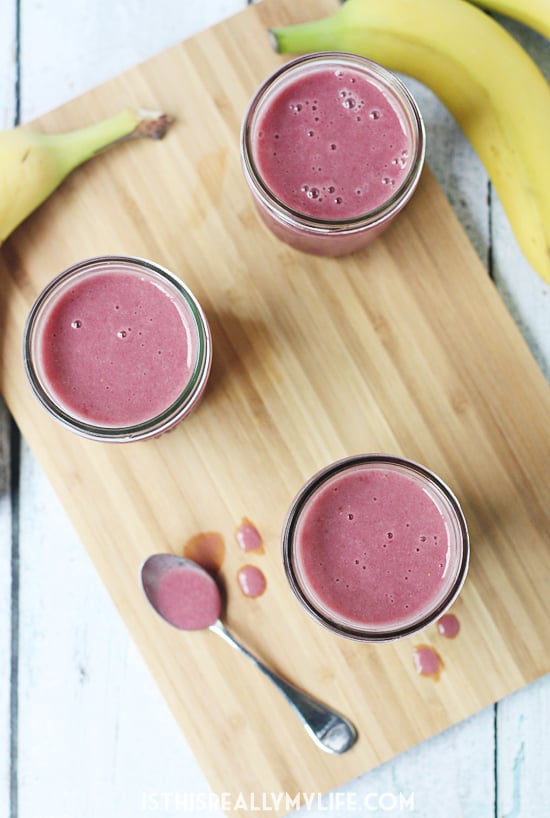 .
I bet many of you haven't heard of the aronia berry. I was totally clueless before this smoothie. The antioxidant-rich aronia berry (aka chokeberry or chokecherry) is native to North America and provides the most balanced protection against the five most common free radicals which can lead to illness. Science has confirmed that diets rich in antioxidants can help us maintain good health, especially with respect to aging and age-related disorders.
You better believe I'm all over anything that fights aging!
This tropical berry smoothie features Organic Aroniaberry Concentrate from Superberries, a brand of health and wellness products featuring aronia berries. Their Organic Aroniaberry Concentrate has over 7 pounds of aronia berries pressed into the 16 ounces of juice. Thanks to all that superfruit goodness, the concentrate is full of powerful nutritional compounds like anthocyanins, polyphenols and flavonoids that help deliver health and wellness benefits to your eyes, joints, cardiovascular and other body systems.
.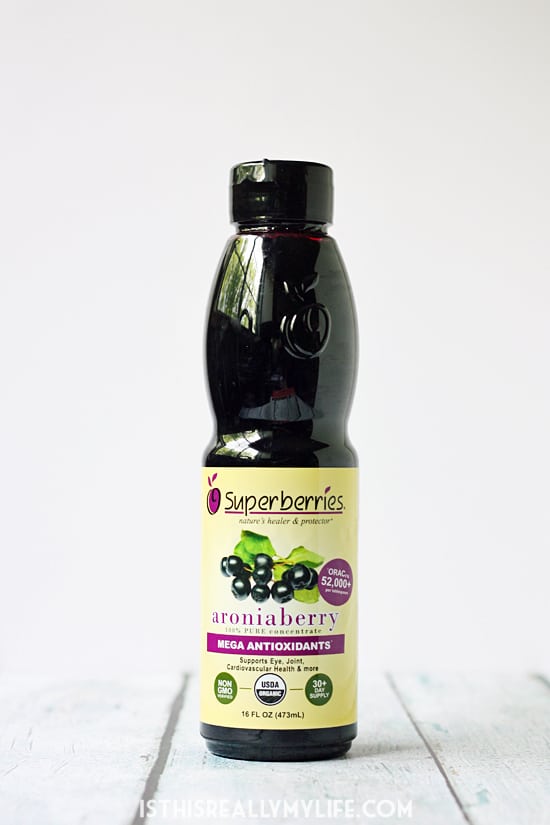 .
I bet you could use Organic Frozen Aroniaberries in this smoothie; just add a little extra almond milk if it gets too thick. Frozen aronia berries would be great atop yogurt or cereal or in your favorite dessert sauce. Aronia berries have one of the highest antioxidant ratings of any fruit and vegetable (hence the name superfruit), so if you have a favorite berry recipe, trying adding frozen aronia berries instead.
.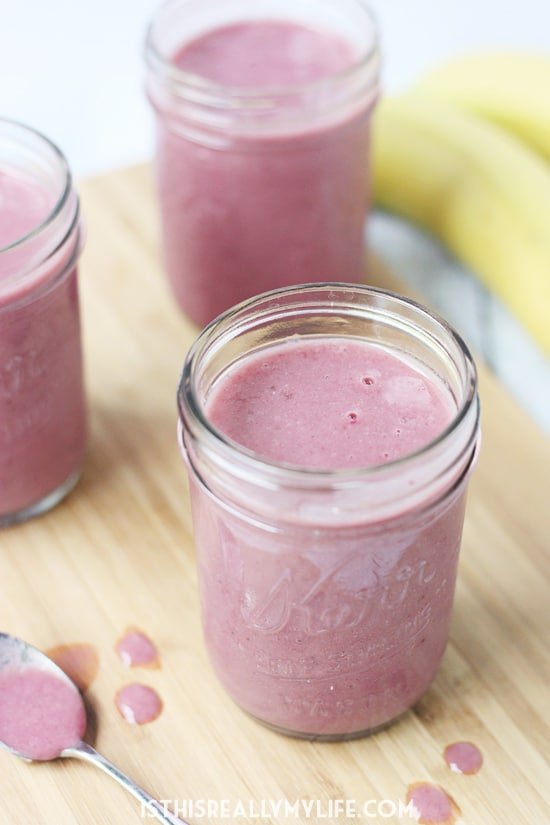 .
I'm anxious to try the Aroniaberry+ Daily Wellness Shots, an energy enhancer with both aronia berry, aceroal berry (naturally rich in Vitamin C) and green tea . These shots are a convenient way to enhance energy without the big jolt that usually comes when using other energy enhancers.
Plus I'm pretty sure these shots are healthier for me than the Diet Coke ones I'm downing all day.
If you're planning to vacay with the family this summer and want to provide a healthier option to typical road trip or airplane snacks, add Aroniaberry Gummy Chews to your packing list. They don't take up much space and won't put you over that 50-lb limit but they will provide everyone with a powerful burst of berry flavor and antioxidants.
.
*** Get $5 OFF all Superberries products through June 30th with code INVacation. ***
.
Printable recipe for antioxidant-packed tropical berry smoothie below. Enjoy!
.

Antioxidant-Packed Tropical Berry Smoothie
This tropical berry smoothie features a blend of pineapple, mangoes and strawberries plus antioxidant-rich organic aronia berry concentrate. Makes approx. two 16-oz smoothies
Author:
Emily ~ isthisREALLYmylife.com
Ingredients
1 cup unsweetened vanilla almond milk (or coconut milk or regular milk)
1 cup Tropicana Trop50 orange juice (or your favorite OJ)
2 tsp Organic Aroniaberry Concentrate
¼ cup low-fat vanilla yogurt (or Greek yogurt)
1 banana
½ (16-oz) package frozen tropical fruit blend (approx. 1½ cups)
Instructions
Place ingredients in blender in order listed and blend until smooth. Serve immediately.
.
Here are a few more of my favorite smoothie recipes. Mmm...
.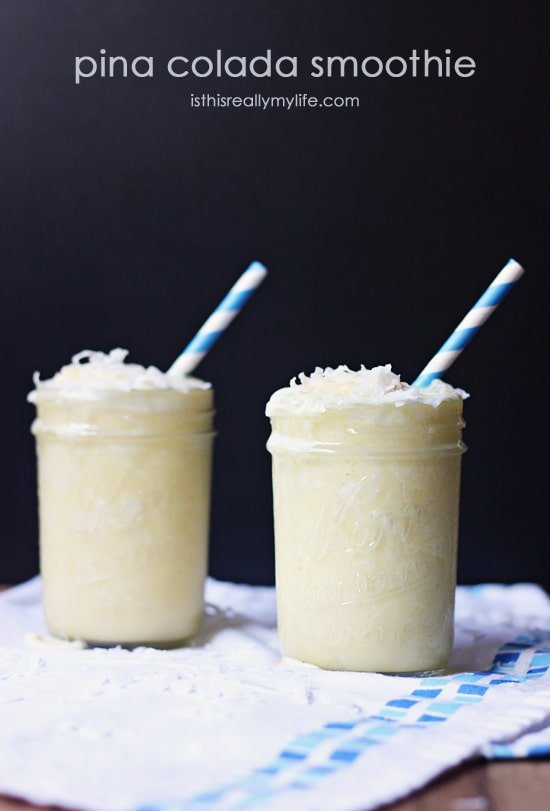 .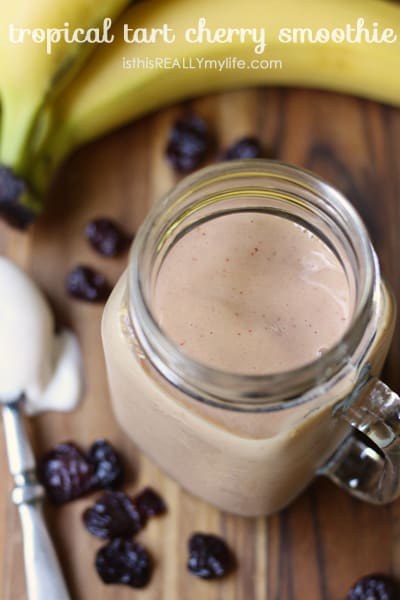 .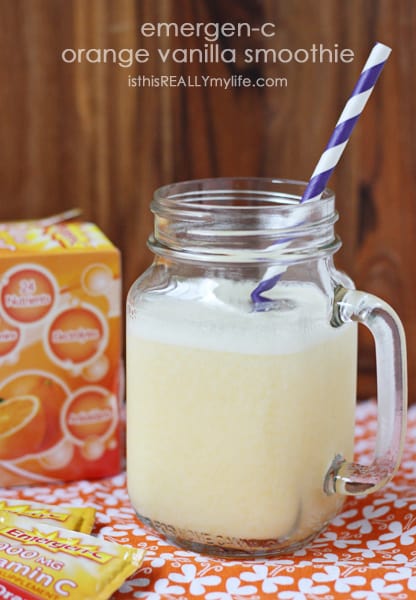 .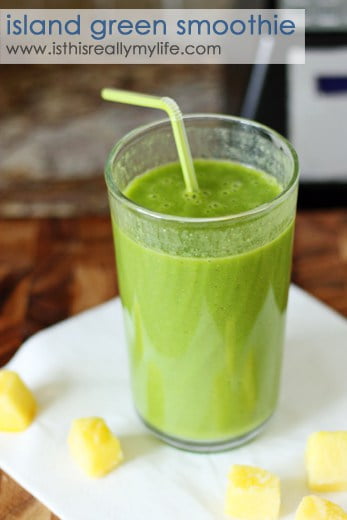 .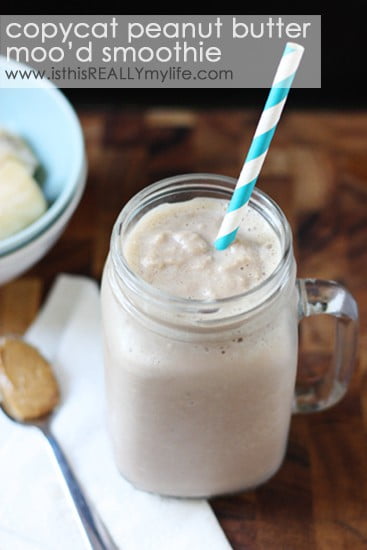 Copycat peanut butter moo'd smoothie
.