I'm not gonna lie. We're big fans of homemade cookies around here, especially your basic chocolate chip cookie. Our go-to recipe has always been the Award Winning Soft Chocolate Chip Cookies on Allrecipes.com. But last night I wanted to try something new, so we found another highly rated chocolate chip cookie recipe on the site: Best Chocolate Chip Cookies. Madison and Lauren whipped up a batch and they were delicious! I'm definitely going to keep the recipe on hand as a nice alternative to the pudding mix version.
Oh, and these freeze fabulously too. I froze the leftovers and taste-tested one just for you!
…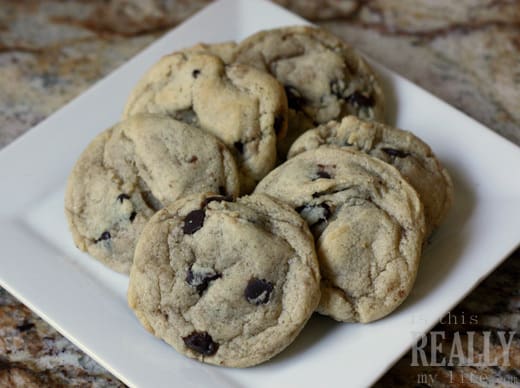 …
Printable recipe for another fab chocolate chip cookie recipe below.

Chocolate Chip Cookies
Add this chocolate chip cookie recipe to your collection. You won't regret it.
Author:
Emily ~ isthisREALLYmylife.com
Ingredients
1 c butter, softened
1 c white sugar
1 c packed brown sugar
2 eggs
2 tsp vanilla extract
3 c all-purpose flour
1 tsp baking soda
2 tsp hot water
½ tsp salt
2 c semisweet chocolate chips
1 c chopped walnuts (optional)
Instructions
Preheat oven to 350 degrees.
Cream together butter, white sugar and brown sugar until smooth. Beat in the eggs one at a time, then stir in the vanilla.
Dissolve baking soda in hot water. Add to batter along with salt.
Stir in flour, chocolate chips and nuts.
Drop by large spoonfuls onto ungreased cookie sheet. Bake for about 10 minutes or until edges are nicely browned.
Eat two immediately and freeze the rest so you can enjoy a cold treat around 11:43 p.m. tonight.
…

…
Feel free to
"like"

is this REALLY my life? on Facebook
. It won't always earn you an extra entry in a giveaway but it
will
give you warm fuzzies.
Don't forget to sign up for free is this REALLY my life? updates via RSS or email so you don't miss a single awesome post.
…