I will admit when ankle boots hit the scene I swore I'd never own a pair—just like I swore I'd never own, let alone wear, skinny jeans. I now own three pairs of skinny jeans and LOVE them.
But back to ankle boots. I'm not sure if I thought they looked clunky with skirts and dresses or if it was like the designer had run out of material partway through making the boot. Whatever it was, I avoided them even after I saw Carina rockin' a pair. Of course, Carina rocks everything she wears.
Well, here's where it gets interesting. The other day I was in Famous Footwear exchanging a pair of shoes for Nathan. (Side note: Nathan should know better than to send me into Famous Footwear to exchange something. It ends up being cheaper if I simply keep the original pair of shoes because I will always come out with more than the pair I exchange.) While browsing the clearance racks I stumbled upon these, a pair of Steve Madden Madden Girl gray ankle boots: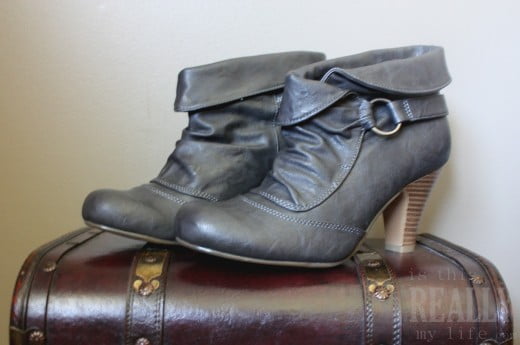 These cute little things screamed "Pick me! Pick me!" and I couldn't resist. I told myself I could easily wear them with skinny jeans (good thing I own a few pairs) but still wasn't sure how else to pull them off. I almost didn't buy them, but a phone call to a good friend set me straight so off the clearance rack and into my arms they went. And so did these: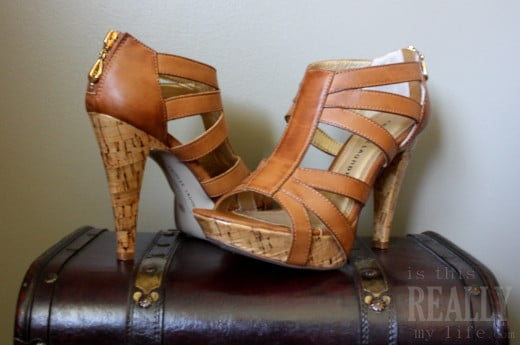 Hello, it was Famous Footwear's BOGO sale. I had to buy a second pair—think of all the money I saved! (My husband totally loves my way of thinking…) Chinese Laundry, where have you been all my heel-wearing life?
And because three is such a magical number, I picked these Nine West beauties up a few days later at Nordstrom Rack: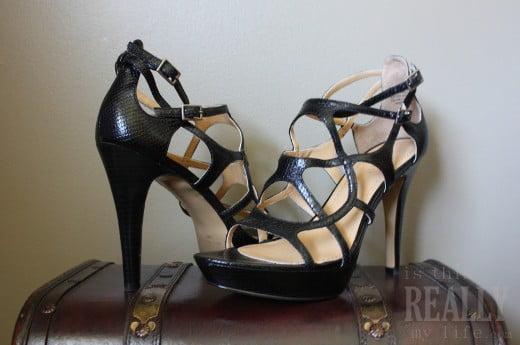 Yes, Nathan knows about my recent purchases (the last pair he has coined my "working girl" shoes) and he also knows about my recent listings on eBay to help pay for aforementioned—and pictured—purchases. It's all good. By the way, that last pair? I saw them in hot pink on a girlfriend at church a couple Sundays ago and was determined to find them and buy them. Mission accomplished. I love checking things off my to-do list!
Sorry, I'm easily distracted by fabulous heels. Back to the ankle boots. Now that I own them, how should I wear them? Are skinny jeans okay? I was hoping I could also wear them under bootcut jeans. How do I pair them with a skirt or dress? Are leggings a must or do bare legs work until winter and the goosebumps hit?
I know there's hope. My recent Anthropologie catalog showed a girl pairing ankle boots with tights and a gorgeous fall skirt and sweater. Then again, maybe there's no hope. I couldn't pull off a lot of those Anthropologie outfits if I tried and had the zillion dollars to do so.
HELP!