Disclosure: American Idol Productions treated me to an all-expense paid trip to Hollywood Week. All thoughts, opinions and signed copies of Harry for the Holidays are 100 percent honest and mine.
Remember when I told you that crazy, "how the heck did this happen?" story of how American Idol found me on Twitter and then I found myself in L.A. for Hollywood Week?
I still look through photos from that whirlwind event and try to get my head around it.
Since then, the IdolTweethearts have been busy posting our behind-the-scenes photos, thoughts on Idol and let's be honest, love of all things Harry Connick Jr.
Because there's so much to share about my trip to Hollywood Week, I'm going to break it up into a few different posts. Today it's all about the magical American Idol lanyard with the power to give unprecedented access to the Dolby Theater . . . and a certain judge with the initials HCJ.
But first, what to wear. I may have texted a friend to get her approval of the outfit before stepping foot outside my room. I paired the top and jeans with my favorite Sam Edelman black platform heels.
I ended up wearing a different pair of jeans because the top button on the ones pictured flew across the room just after I took the photo.
I only hoped my top color coordinated with the lanyard. And all remaining buttons—and zippers—remained intact.
We met in the lobby anxiously awaiting the moment we'd walk across the street and set foot in the Dolby Theater (pictured in the first photo, top left).
Finally we were given our magical lanyards and walked field trip-style across the street to the famed Dolby Theater . . . but not before I snapped a selfie outside to document the moment in case I woke up and found it all a dream.
I have no idea what my hair was doing; it had a mind of its own that day.
Next thing I knew, we were walking past security and down a long hall.
Wait, which way to the judges lounge? No worries. I'll swing by confessional after I sneak into the lounge.
We turned a corner and—HOLD UP. WAIT JUST A MINUTE. Does that really say HCJ on Dressing Room 2? Why yes, it does. Fortunately for HCJ (unfortunately for me), he wasn't inside but that didn't stop me from taking advantage of a great photo opp.
After oggling checking out the judges' dressing rooms, we found ourselves in a waiting room complete with a delicious lunch buffet featuring chicken, pasta, salad and dessert.
But the real dessert came when this guy walked into the room.
HOLY HARRY CONNICK JR.
We may have screamed like schoolgirls. Fortunately no one fainted as that would have seriously cut into our Q & A with Harry.
Best Q & A ever.
…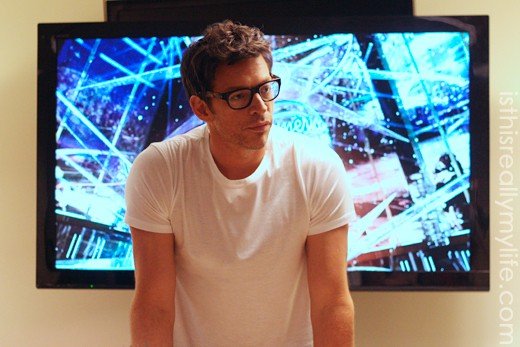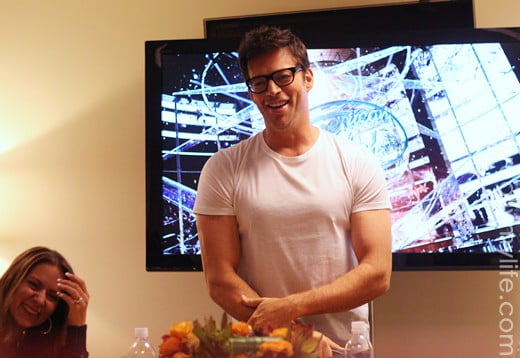 …
Though I didn't get an individual photo with Harry in that now sacred waiting room, I did have someone use my phone as we took a few group shots.
As he left, I gathered all the confidence I could muster, found a black Sharpie and asked Harry Connick Jr. to sign my copy of When My Heart Finds Christmas. I knew this would be my only chance and I've loved that CD for years.
He totally signed it.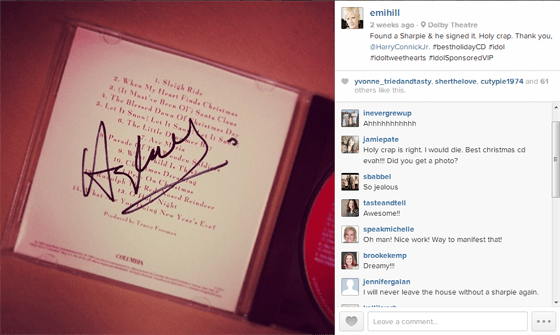 …
I could dedicate an entire post to Harry's thoughts on American Idol, the audition process, and his responsibility as a judge but until I do, I'll let you hear (and see) for yourself when American Idol premiers January 15th on FOX.
If you want to keep up with the IdolTweethearts, you can find us on Facebook and Twitter. You can also follow the hashtag #IdolTweethearts.
…


Feel free to "like" is this REALLY my life? on Facebook. It won't always earn you an extra entry in a giveaway but it will give you warm fuzzies.
Don't forget to sign up for free is this REALLY my life? updates via RSS or email so you don't miss a single awesome post.
…