Accidentally Me is the endearing story of a quirky, teenage girl's journey from self-pity to self-confidence complete with charming characters and the perfect mix of humor and heart.
.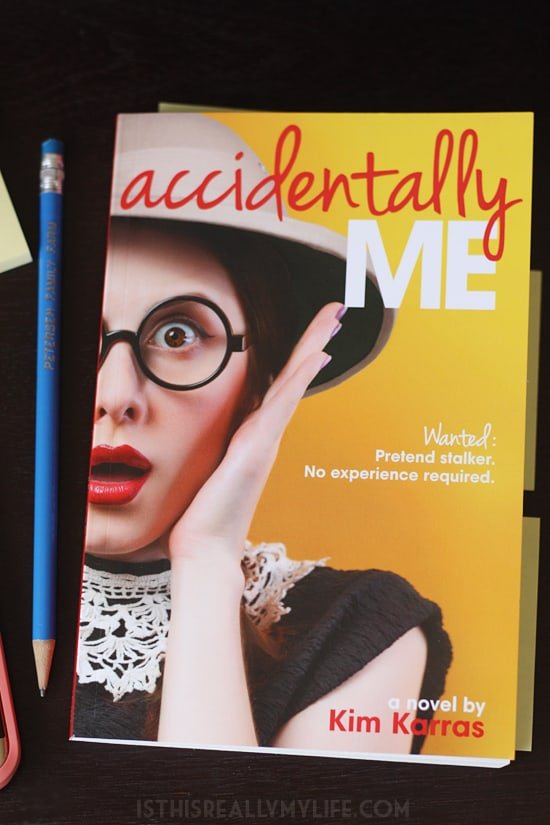 I was provided with a copy of Accidentally Me for this review. All thoughts, opinions and love of the flawed main character are mine. Post may include affiliate links.
.
It's never too early to start thinking about holiday gifting. I mean, it is November 1st, which means only 54 more shopping days until Christmas. But don't stress because today I'm sharing a fantastic stocking stuffer idea perfect for book-loving teenage girls and grownup girls alike. The book, Accidentally Me, is Kim Karras' debut novel and the endearing story of a quirky, teenage girl's journey from self-pity to self-confidence.
We can all relate, right?
.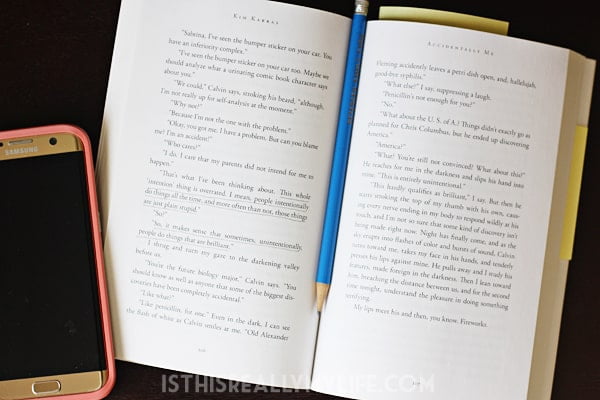 .
From the back cover:
Sabrina has been trying to be the perfect child her entire life to convince her parents that she's more than just an 'accident.' Now she is determined to go to her dream college, but her parents want her to stay close to home. Desperate times call for desperate measures, and Sabrina must team up with an unlikely ally—a guy she hires to be her pretend stalker—to get what she wants. But when her scheme...goes according to plan, and people believe he really is stalking her, her new feelings for him prove most inconvenient.
.
As an older teenager, I remember having all sorts of plans go awry but I never planned one as elaborate as Sabrina's—one in which college attendance was on the line. But I did have many moments (phases) of awkwardness, indecision, self-doubt, weak-in-the-knees feelings for boys. This is what makes it so easy to like the main character; she's utterly believable.
Accidentally Me isn't a very long novel (avid readers will finish it in an afternoon), but that doesn't keep it from causing you to smile, wince, laugh, worry and tear up in both joy and sadness. Sabrina and her family (love the dynamics!) are so very lovable and the plot has enough little twists to keep you reading. Even better? It's totally PG and free from all the crap most young adult novels have these days.
.

.
The were only two little things I didn't love about Accidentally Me. The first was how much Sabrina seemed to wallow in her whole "I was an accident" thing at the beginning of the book. I was about to tell her to get over herself (something I tell my kids all the time), but fortunately she had worse things to worry about as I got further into the book.
The second was the extremely short amount of time it took for Sabrina to have feelings for Calvin, her pretend stalker. I wanted a few more pages for those feelings to develop because it seemed one moment he weirded her out and the very next, it was all she could do to not kiss him. That being said, for a first novel, it's a dang good debut.
Here are a few of my favorite lines from the novel:
"This whole 'intention' thing is overrated. I mean, people intentionally do things all the time, and more often than not, those things are just plain stupid. ... It make sense that sometimes, unintentionally, people do things that are brilliant." (p. 106)
"It strikes me that this is the kind of courage that adulthood demands. The courage to look foolish. The courage to admit fault. The courage to lose." (p. 212)
"There's nothing wrong with failure as long as you get it right eventually." (p. 230)
"Life doesn't go according to plan. That's not necessarily a bad thing. From what I can tell, some of the best things in life just happen, accidentally." (p.240)
I may have teared up twice—once while reading it the first time and once while going back and rereading my favorite parts. I blame an overdose of Halloween candy.
If you're looking for a great fiction book for your teenage girls to read during the downtime between Christmas and New Year's, make sure Santa puts a copy of Accidentally Me in their stockings.
.
Maybe you can accidentally read it before they do...