Just like you can never have enough dessert (you do know there's an entire separate dessert stomach, right?), you can never have enough girls' nights out. I'm not sure about you but it's a must for my sanity.
A couple weeks ago I was one of the lucky few to attend the first annual Cupcake Conference held at the Grand America Hotel. The conference was organized by my good and amazing friend Steph and her just as amazing conference-planning sidekicks. What started out as a twitterific joke turned into an evening full of cupcakes and socializing and more cupcakes and more socializing. (I think more Twitter convos need to turn into super decadent girls-only evenings.)
My super talented, super good friend Quinn took some fabulously tasty photos of the evening. Here's one of my faves; get ready to drool!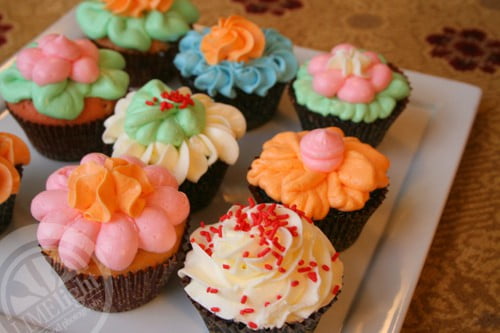 The Grand America let us into their pastry kitchen where we met with the executive pastry chef. She then introduced us to a spread consisting of frosting, freshly baked cupcakes and a variety of toppings. What followed next was a cupcake decorating frenzy!
Okay, so maybe it wasn't a frenzy, but I think there was a little bit of craziness going on…
When all was said and done, we did have a few winners. (I forgot to bribe the judges beforehand so I was not one of the chosen few.) But Jill was…
…and so was Alexis.
The overall winner was Victoria. Her cupcake was chosen by Grand America's pastry chef. I have to admit, I loved this cupcake! (If you can't tell, it's a miniature snowman!)
Of course I think my cupcake was pretty darn cute too!
After the frosting, sprinkling and judging, we headed upstairs to the super sweet suite for the eating of the cupcakes, massages, chatting, laughing, more eating of the cupcakes and then some super fabulous giveaways…
…including a Bedazzled cupcake Snuggie!
I mean, what's there not to like about handcrafted cupcakes,
handcrafted fun,
and handcrafted (new) friendships?
Oh, and let's throw in a handcrafted baby for good measure.
Did you miss the recent Cupcake Conference (and the awesome swag, free FotoFly Studio session and all)? I am truly sad for you, but no worries! You can get your cupcakes frosted at the next event. Simply  subscribe to the Cupcake Conference blog so you can be in the know, sprinkles and all.