When it comes to winning a contest or sweepstakes of sorts, I thought Publisher's Clearinghouse had the worst odds. I was wrong. I thought it would be fun to enter two contests (not sure why I decided to do them at the same time…maybe because I can't help but multitask?), both done via Facebook. I quickly discovered I wasn't the only one who thought it would be fun.
I think my latest rank for the Face of Fitness contest (Fitness magazine cover) is like 107th place. I glanced at the weeks' past winners and realized the picture I chose as my "voting" picture is all wrong. A triumphant smile and hot pink event tee won't get the votes. Nope. What I need are some rock-hard abs and a snazzy sports bra and tight spandex to properly display them. I also need to take the photo while doing a pushup, making sure the camera is aimed at my chest face. *sigh* If only I'd known before I'd submitted my entry, I would have gone on a week-long liquid diet, done the entire P90X challenge for 96 hours straight and bought new workout clothes from Victoria's Secret.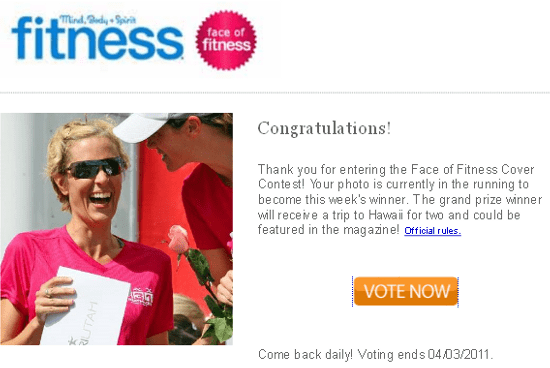 You can click on the image above to cast your vote!
…
As for the Perform Beautifully contest (Oakley Women's ambassador), I have less than a snowball's chance because I'm not a yoga instructor, rock climber/professional dancer/personal trainer, Olympic gold medalist or marathoner who saved a litter of puppies from a burning building while qualifying for Boston. I jest. Sort of.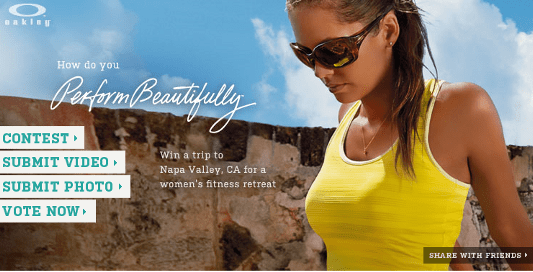 You can click on the image above to cast your vote!
…
It's all a bit humbling (or depressing, depending on your outlook), and yet I'm forging on, annoying friends and family with daily requests for their votes. And I'm doing it again because I'd really like to be ranked 99th or higher. That triple-digit number is kinda sad.
If you feel like supporting the What Was She Thinking? cause, I'd love your daily votes in the Face of Fitness and Perform Beautifully contests. You can vote by clicking on the images above or the links I just threw at you.
NOTE: The Face of Fitness only goes for a week. The Perform Beautifully goes until April 29th. So basically I'll be half as annoying once this week ends. Nice.
P.S. You could always bookmark both pages to make it even easier to vote. I may have a snowball's chance (or less), but I'm not going down without a fight…even if I have to take on the manly female bodybuilders.