Needing to finish up some leftover chicken salad from Saturday's baby shower (post coming soon…or soon once our taxes are done), we had a picnic-themed dinner Monday night. George and Livi aren't fans of chicken salad sandwiches. Fearing they might turn up their tiny noses at peanut butter and jelly—not because they don't like it but because it's a lunchtime staple—I mixed a little creativity with a few cookie cutters and came up with this: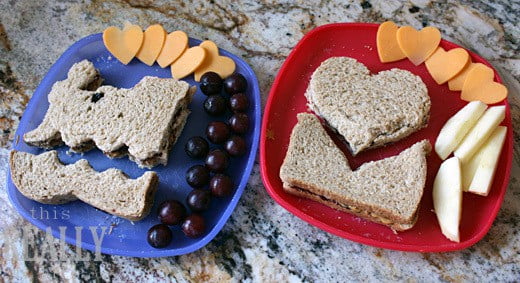 I know, I know…it's not a new idea but it had been forever since I last tried anything fun with their PB&Js. Notice I also added a nice touch with the side of cheddar cheese. George polished off his plate and had seconds of cheese (and seconds and thirds of grapes). Livi ate about half her sandwich, which is 100 percent more than she usually eats (if 100 percent more of nothing is a half), and had seconds on the cheese. Alas, she didn't eat her apples until bribed with a little dessert, but still, I'd call it a successful dinnertime meal overall!
And who says you can't have lunch for dinner? We have breakfast for dinner all the time, especially if it's someone's birthday and we're doing our traditional psychedelic waffles!