Doesn't the title of this post just roll off your tongue? It's almost as delightful as the apple pie recipe I'm about to share with you. Yet again a day went by with no time to edit the rest of our 4th of July photos, but I did have time to edit a couple of my family's favorite apple pie, which I made specifically for our 4th of July celebration. I mean, c'mon—can you have a 4th of July barbecue without apple pie and vanilla ice cream?
Of course, I think the reason it's my kids' favorite is because of the apple peeler/corer/slicer we use to get the apples ready. Everyone wants a turn and I need to make sure I have enough apples to go around!
…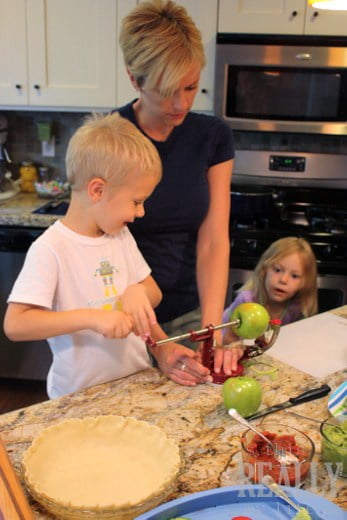 …
Now, these are not the best food photos ever by any means. It was later in the evening and this ooey, gooey decadent pie has issues when it comes to keeping it together for a photo opp. Just know that though it doesn't look pretty on the plate, it was TO DIE FOR. Enjoy!
…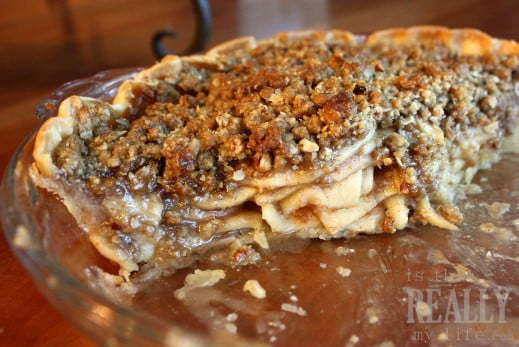 …
Crunchy Apple Pie
1 pastry crust for a deep-dish 9-inch pie (homemade or store-bought)
1/2 cup sugar
3 T flour
1 tsp ground cinnamon
1/8 tsp salt
6 cups thinly sliced peeled apples (I prefer Granny Smith)
1 recipe Crumb Topping (see below)
1/2 cup chopped pecans (optional)
1/4 cup caramel topping
Crumb Topping
1 cup packed brown sugar
1/2 cup flour
1/2 cup quick-cooking oats
1/2 cup butter
For crumb topping, stir together brown sugar, flour and rolled oats. Cut in the butter until topping is like coarse crumbs. Set aside.
In a large mixing bowl, stir together the sugar, flour, cinnamon and salt. Add apple slices and gently toss to coat. (For kicks and giggles I like to add about a 1/4 cup finely chopped pecans to the pie filling.) Transfer apple mixture into the pie shell. Sprinkle crumb topping over the top of the filling. Place pie on a cookie sheet to protect your oven from drippings. Cover edges with aluminum foil to keep from burning.
Bake for 25 minutes, then remove foil and bake another 25 to 30 minutes. Remove from oven and sprinkle with chopped pecans, then drizzle caramel on top. Serve with a side of vanilla ice cream…of course!
…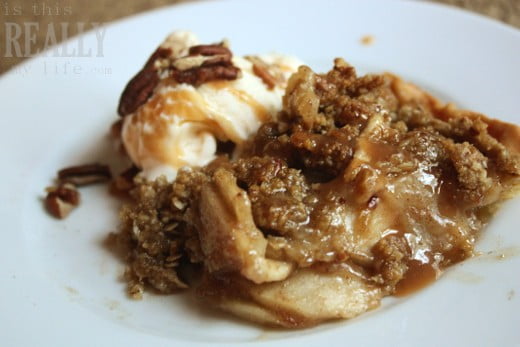 …
P.S. Yes, I know my top banner is missing. I upgraded my theme and it wonderfully, miraculously disappeared. Awesome.