This is a super easy chicken noodle soup recipe but let me clarify.
By "super easy" I mean "not as easy as opening a can of Campbell's chicken noodle soup but easier than using a recipe that requires from-scratch chicken stock and the cooking and shredding of chicken breasts."
…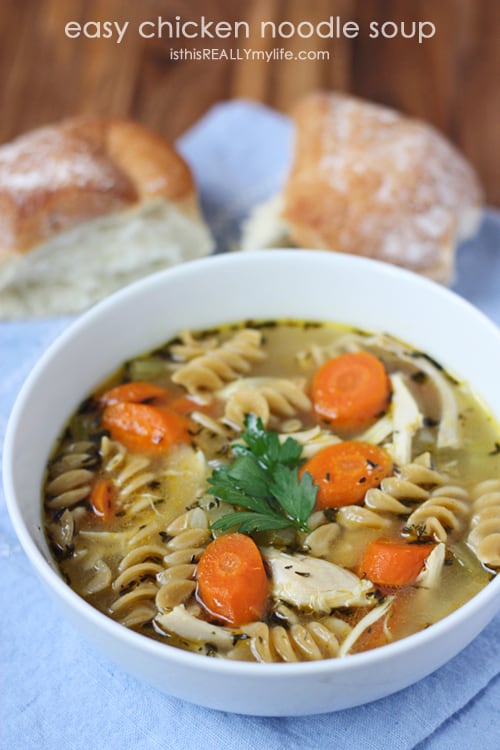 …
Basically this super easy chicken noodle soup recipes is one of the easiest homemade chicken noodle soup recipes you can make and it's full of yummy roast chicken flavor, chunks of tender carrots and celery and al dente pasta noodles (whole wheat if you love whole wheat pasta as much as I do). Feel free to tweak the amount of garlic and thyme according to taste. I think next time I make it, I will throw in a bit more salt and pepper.
…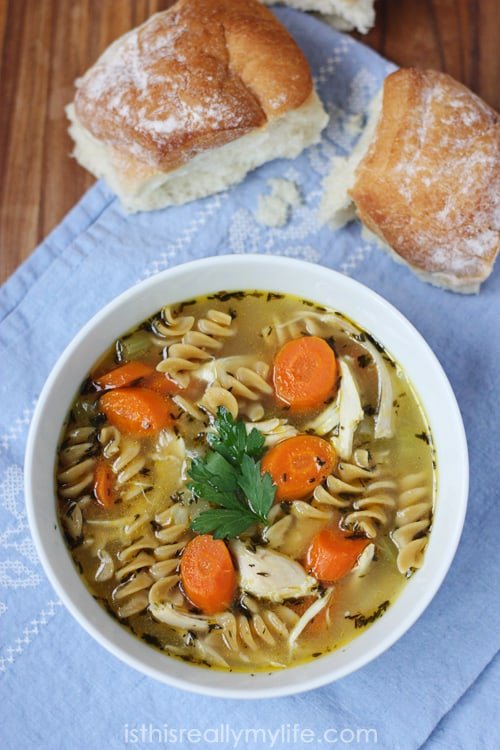 …
I find this soup—and pretty much all soups—taste even better when served with a side of rolls like this closely guarded dinner roll recipe.
You're gonna have to trust me on this one.
…

Super Easy Chicken Noodle Soup
A hearty homemade chicken noodle soup recipe that is both easy and packed with flavor.
Author:
Emily ~ isthisREALLYmylife.com
Ingredients
2 T olive oil
1 medium onion, chopped
3 garlic cloves, minced (about 1½ tsp)
2 medium carrots, cut diagonally in ½-inch-thick slices
2 celery ribs, halved lengthwise, cut in ½-inch-thick slices
2 tsp dried thyme
1 bay leaf
2 quarts chicken stock (or broth)
1 (13-oz) package whole wheat rotini
1½ cups shredded rotisserie chicken
Salt and pepper to taste
Fresh flat-leaf parsley, finely chopped
Instructions
Place a soup pot over medium heat and add oil. Add onion, garlic, carrots, celery, thyme and bay leaf. Cook and stir for about 6 minutes until vegetables are tender but before onion brownes.
Slowly pour in chicken stock and bring to a boil. Add the noodles and simmer for 7 to 9 minutes or until al dente.
Fold in chicken and continue to simmer for 2 to 3 minutes until heated through; season with salt and pepper. Remove bay leaf and sprinkle with chopped parsley before serving.
…
Here are some other delicious homemade soup recipes perfect for chillier weather.
…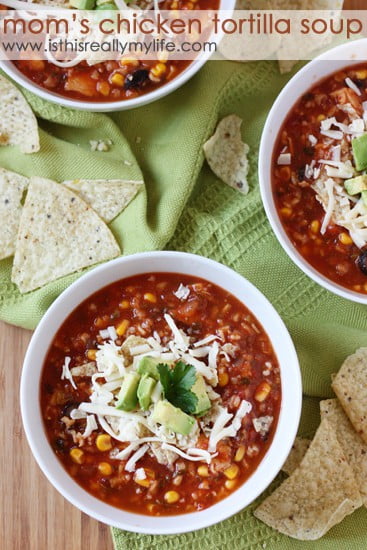 …

Cafe Zupas Wisconsin cauliflower soup
…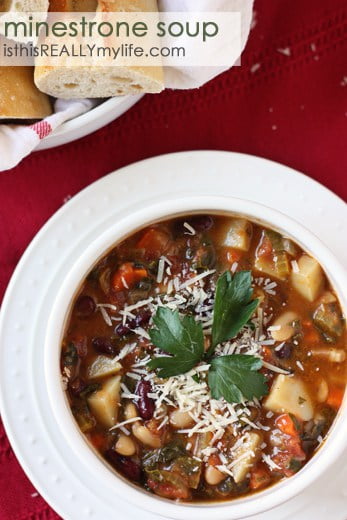 Sniffle-friendly minestrone soup
…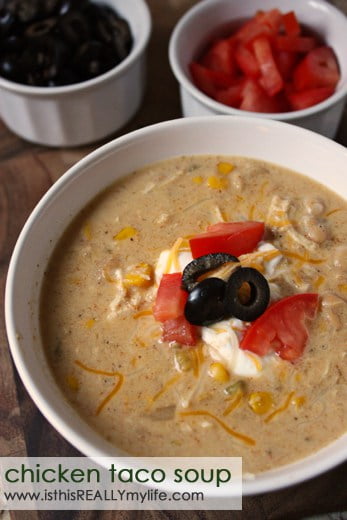 …
If you love homemade soup, check out my "soup recipes" Pinterest board. It's full of all kinds of slurp-worthy soups.
…
Follow Emily Hill's board soup recipes on Pinterest.
…

Feel free to "like" is this REALLY my life? on Facebook. It won't always earn you an extra entry in a giveaway but it will give you warm fuzzies.
Don't forget to sign up for free is this REALLY my life? updates via RSS or email so you don't miss a single awesome post.
…