From familiar favorites to newer releases, these 15 free apps for kids are sure to keep your kids entertained for as long as you'll allow them screen time.
.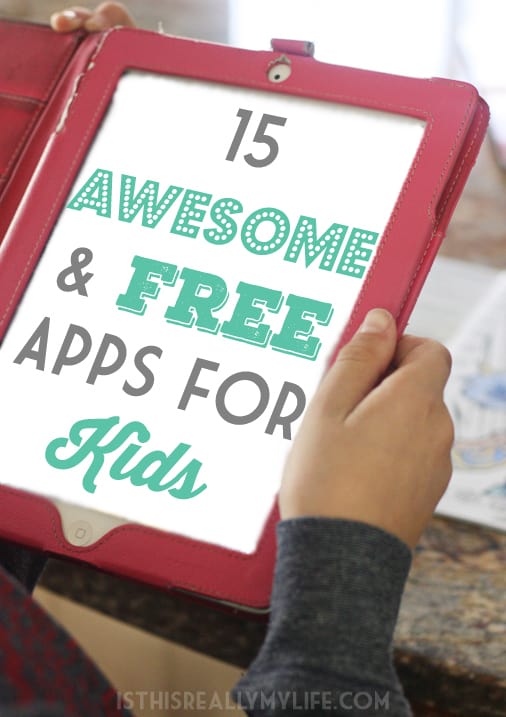 .
It's a fact—my iPad is used far more by my children than myself. I'm sure a big part of it is due to the fact we haven't bought our kids their own iPads and I'm way okay with that. They have access to enough technology as it is. But when the computers (we have at least three in our office) are occupied or we're on a road trip, Mom's iPad is the Holy Grail of entertainment.
A sure sign they use it more than I do is the number of iPad games in the multiple "kids" folders versus the iPad games in my single "Mom's Games" folder. They have 54 compared to my 9. Granted, they regularly play maybe half of those, but it's obvious whose iPad it really is…
If you're looking for some new AND FREE apps for kids, here are my kids' 15 most favorite. Enjoy!
.
15 Awesome (and Free!) Apps for Kids
.
Subway Surfers
This is an oldie but a goodie. Subway Surfers is one of the first games my kids downloaded and they still play it all the time. I've tried it but my reaction time is far too slow. (I last about 6 1/2 seconds.) The graphics are awesome; I love all the bright, vivid colors. The music is kinda catchy too!
.
.
Jetpack Joyride
Like Subway Surfers, Jetpack Joyride was one of the first few free apps added to my iPad. "Join Barry, a struggling gramophone salesman, as he breaks into a secret laboratory and commandeers experimental jetpacks. Strap on a bullet-powered jetpack to dodge lasers, electric fields and all the missiles that come your way." How could any kid resist with a description like that? This isn't one I've tried but I've had a great time watching George play.
.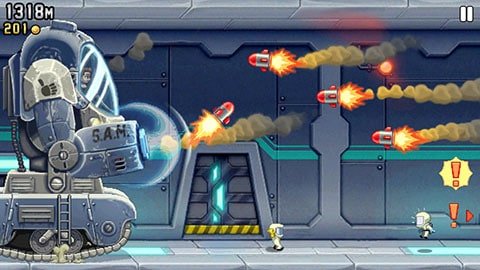 .
Where's My Water?
While we're on older releases, let's revisit Where's My Water?. Whenever I ask the kids which games I can delete to make room for new apps, they never EVER let me get rid of this one. And I don't mind. There's strategy involved in getting water to Swampy. I love learning disguised as fun! Where's My Water? 2 is even more fun thanks to added characters and cool stuff like duckies and poison…
.
.
Zombie Tsunami
I totally don't get Zombie Tsunami but Livi loves it, and for some reason I can't help but watch her when she plays it. Maybe it's the chaos. Maybe it's the sheer amount of little green zombies she collects. Whatever it is, it's nuts. And the kids love it.
.
.
Flow Free
While Flow Free appears to be geared more towards adults (no flashy graphics or annoying music), all my kids have enjoyed this game. I love that it teaches strategy and has more to do with solving problems than quick reflexes. Plus you can make it as easy or difficult as you like.
.
.
Fruit Splash
If you don't like connecting dots, how about fruit? Fruit Splash is one of Livi's favorite apps and it's a fun one to watch her play. It has a nice mix of engaging graphics, strategy and fun.
King of Math
While more learning tool than game, King of Math is one of the few "non-game" kids' apps the kids haven't removed from my iPad. It's right up there with Lightbot (sadly, not free) and Reflex (free to school students). Maybe it's the whole royalty thing, or maybe it's because Mom has the highest score and they refuse to give in. Whatever the reason, the enjoy playing it! Even better, they have a King of Math Junior (see below), which I'm totally downloading tonight!
.
.
Piano Tiles 2
The first piano app my kids downloaded was Magic Piano but they've since moved on to Piano Tiles 2. I'm not sure the reason but I'm guessing it has something to do with those quickly-moving black and white squares. For me it's right up there with Subway Surfers and quick reflexes, so I leave this one completely to the kids. And they rock it.
.
.
Crossy Road
Now we move from quick tiles to quick traffic. Crossy Road and its partner Smashy Road are arcade hopper games that remind me a lot of Frogger. I loved Frogger and played it all the time but it caused serious anxiety. Not so with my kids. They have no problem trying to get that chicken or penguin or zombie across endless lanes of traffic.
.
.
Down the Mountain
Speaking of endless hopper games, Down the Mountain is another game boasting old-school arcade graphics and endless hazards around which you have to navigate a cow. The cow's actually kind of cute as are the graphics and the sounds. Yes, I've tried my hand at Down the Mountain. And failed miserably.
.
.
My Boo
While George doesn't play My Boo, Livi is all over this virtual pet app and its companion app, My Boo Town. My Boo reminds me of those Tamogotchi virtual pets that were popular nearly 10 years ago only this one doesn't require replacing the battery. And you have a ton of mini games you can do to earn money to deck out your Boo in the latest styles. In My Boo Town you can build houses, public buildings, shops and other stuff for your Boos. It's like Sims but cute blobs instead of people. What can I say? She loves it.
.
.
Fancy Pants Adventures
Fancy Pants Adventures was one of George's first downloads. It's been around since 2006 but don't let that stop you from downloading it for your kids. They'll love it, especially if they enjoy side-scrolling games where you get to "join Fancy Pants Man … as you help rescue his little sister, Cutie Pants, from the worst pirates ever." The unique hand-drawn artwork and gorgeous, colorful graphics—not to mention the stick-figured Fancy Pants Ma—make this app fun for all ages. Note: I believe it's available only for iOS.
.
.
Dumb Ways to Die
Dumb Ways to Die might be my most favorite kids' app on the list. Any app that makes you laugh out loud is a win and this one does it every time. From the characters to the crazy situations, DWTD is highly entertaining and a heck of a lot of fun. It's been around a little while so you may already have it but did you or your kids know the game was created by a small team that helps operate Metro Trains Melbourne, the train network in Melbourne? They wanted to take an important safety message (be safe around trains!) and transform it into a brand kids would engage with. I think they succeeded and then some…
.
.
Kingdom Rush
Kingdom Rush and its compatriots, Kingdom Rush Frontiers and Kingdom Rush Origins, are amazing. Yes, they are found under "Mom's Games" on my iPad but I let the kids play them as long as they create their own accounts. George has progressed farther than I ever have. "Fight on forests, mountains and wastelands. … Rain fire upon your enemies, summon reinforcements, command your troops, recruit elven warriors and face legendary monsters on a quest to save the Kingdom from the forces of darkness!" This series of games has won multiple awards and you can totally see why. The animation is awesome with sound effects that make the game…and make me smile. Seriously. Start with Kingdom Rush and see if you don't download all three by week's end.
.
.
Toca Boca (all the free games you can grab)
Dude. I need to buy stock in Toca Boca if they offer stock. I saved this one for last because we have just about every Toca Boca game (free and paid) on my iPad because they're that good. Whether you like creating robots, feeding monsters, styling hair, tailoring clothes or dressing fairyland creatures, Toca Boca has an app. I think we have 12 of them. Toca Hair Salon 2, Toca Tailor, Toca Robot Lab and Toca Tea Party are played the most but all the ones we've downloaded get screen time. All of them fit the "awesome" category but sadly only a few are free.
.
.
.
Looking for more fun stuff? Try browsing my best of Is This Really My Life Pinterest board. I guarantee you'll find quite a few!
.
.

Feel free to "like" is this REALLY my life? on Facebook. It won't always earn you an extra entry in a giveaway but it will give you warm fuzzies.
Don't forget to sign up for free is this REALLY my life? updates via RSS or email so you don't miss a single awesome post.
.