Next time you have a s'mores party, offer guests fun fixings for the best s'mores party ever! Mix it up with different crackers, candies & marshmallows.
Over four years ago (oh my gosh, has it really been that long?), I posted a recipe for microwave s'mores. At the very bottom of that recipe I threw in a few suggestions for different ingredients to mix up your s'more making.
Now that we have a few more s'mores under our belts—and in our bellies—I wanted to update that list just in time for your summer s'more-gasbord.
See what I did there? Sometimes I'm clever with the words.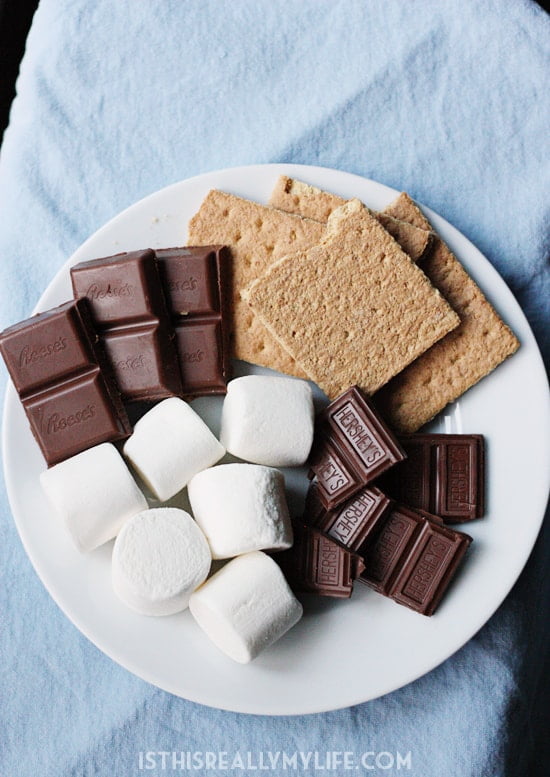 To make over 100 different s'mores, you're going to need a few more fixings than what's pictured above, but don't worry, none of them are hard to find. In fact, they're a bit too easy to find if you ask me. You may find yourself making s'mores almost every night during the summer once you give these whole s'more party a try!
I've broken it down into three categories: cracker or cookie, candy and marshmallow. To make your s'more, pick one item from each category (you'll need two from the cracker category of course), roast your marshmallow and stack away!
Keep in mind the list isn't set in stone; feel free to add your own creative fixings. We have yet to try something crazy like Swedish fish, but if you want to give it a shot, go for it.
Because YOLO.
Cracker or Cookie
Traditional graham cracker
Cinnamon graham cracker
Chocolate-covered graham cracker
Fudge stripe cookie
Samoa cookie
Thin mint cookie
Candy
Hershey's chocolate bar (Symphony bars are yummy too!)
Reese's Peanut Butter Cup
Caramello bar
Kit-Kat
Ghirardelli milk chocolate caramel squares
Andes mints
Peanut butter (creamy or crunchy)
Nutella
Brownies (baked in a larger pan so they're a little less thick)
Marshmallow
Classic marshmallow
Stacker marshmallow
Toasted coconut marshmallow
Swirled marshmallow (chocolate & vanilla or caramel & vanilla)
Strawberry marshmallow
What's your favorite way to eat a s'more? Do you stick with the classic? Do you burn your marshmallow on purpose? Do you skip the graham cracker and chocolate altogether? I'd love to hear your s'mores story!