I'll explain the title of this post in a moment, but first...
Now is the time everyone starts posting their top posts for the year. I've done it for 2013 (now I'm craving cowboy salsa) and 2014 (dang those cookie dough pretzel bites), but this year I decided to do something a bit different. Instead of sharing my most popular or most pinned posts, I'm sharing the recipes I make most often.
You know, the ones I should know by heart but don't because my brain seems to be slowing along with my metabolism.
These 10 recipes are (choose one): A) my favorites; B) my family's favorites; C) my friends' favorites; D) all of the above.
The answer is D.
These recipes have been baked, blended, whisked and rolled more times than I can count, and they will continue to be baked, blended, whisked and rolled for years to come. When you're talking super awesome recipes like these, you can't title your post something lame like "My 10 Favorite Recipes" or "The 10 Recipes I Make the Most," so I asked Madison to help me come up with a catchier title. She was kidding when she messaged me "The 10 Recipes I Will Never Not Make" but it made me laugh out loud so I made it official.
I realized when compiling this list I've neglected to share some of our other favorite recipes:
Stuffed shells
Chicken divan (shared it seven years ago; time to update!)
Ghetto chicken (two ingredients and we eat it nearly every Sunday)
Make-ahead breakfast casserole
.
Those recipes are officially on my 2016 calendar. And by officially I mean I just set a New Year's resolution to make them, photograph and share them before 2017.
You may recognize a few of these from the 2013 and 2014 "top" posts. That tells me you love them—and will never not make them—as much as we do!
.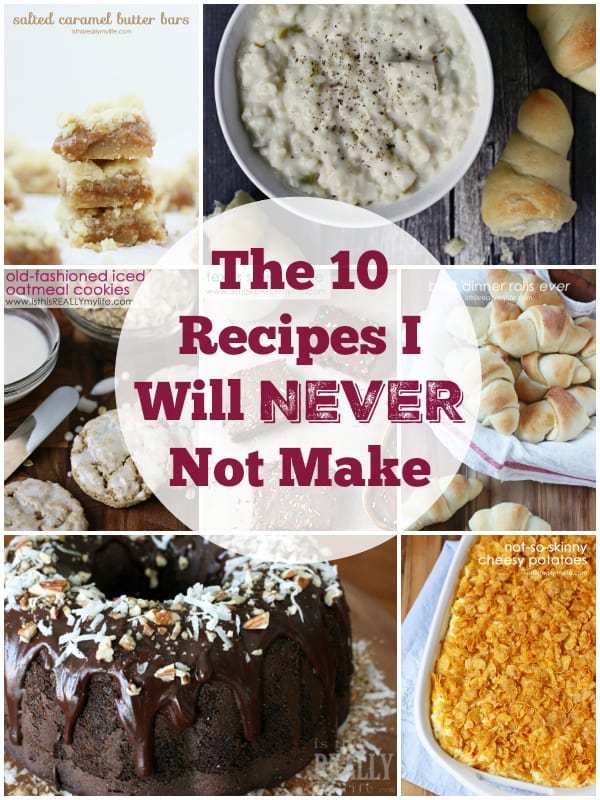 .
Pictured:
.
Not pictured:
.
Which of your recipes are your family's and friends' most favorite?
.
If you want to browse all the recipes I've shared, check out my best of ITRML Pinterest board.
.
.


Feel free to "like" is this REALLY my life? on Facebook. It won't always earn you an extra entry in a giveaway but it will give you warm fuzzies.
Don't forget to sign up for free is this REALLY my life? updates via RSS or email so you don't miss a single awesome post.
.