Post may include affiliate links to help support my Diet Coke habit.
I'm sure you and I have similar gifts on our wish list this year: an unlimited supply of Diet Coke, a refrigerator that dispenses pebble ice, a pair of fuzzy socks for every day of the week, baked goods that are absolutely delicious but have no fat, sugar or calories…
Those are all awesome gift ideas, but don't Sharpie your list until you've checked out some of my favorites like a super sharp chef's knife, the best sea salt spray ever and the only thing I'd ever buy with glitter. Trust me when I say these are 10 gifts you didn't know you needed…until now.
.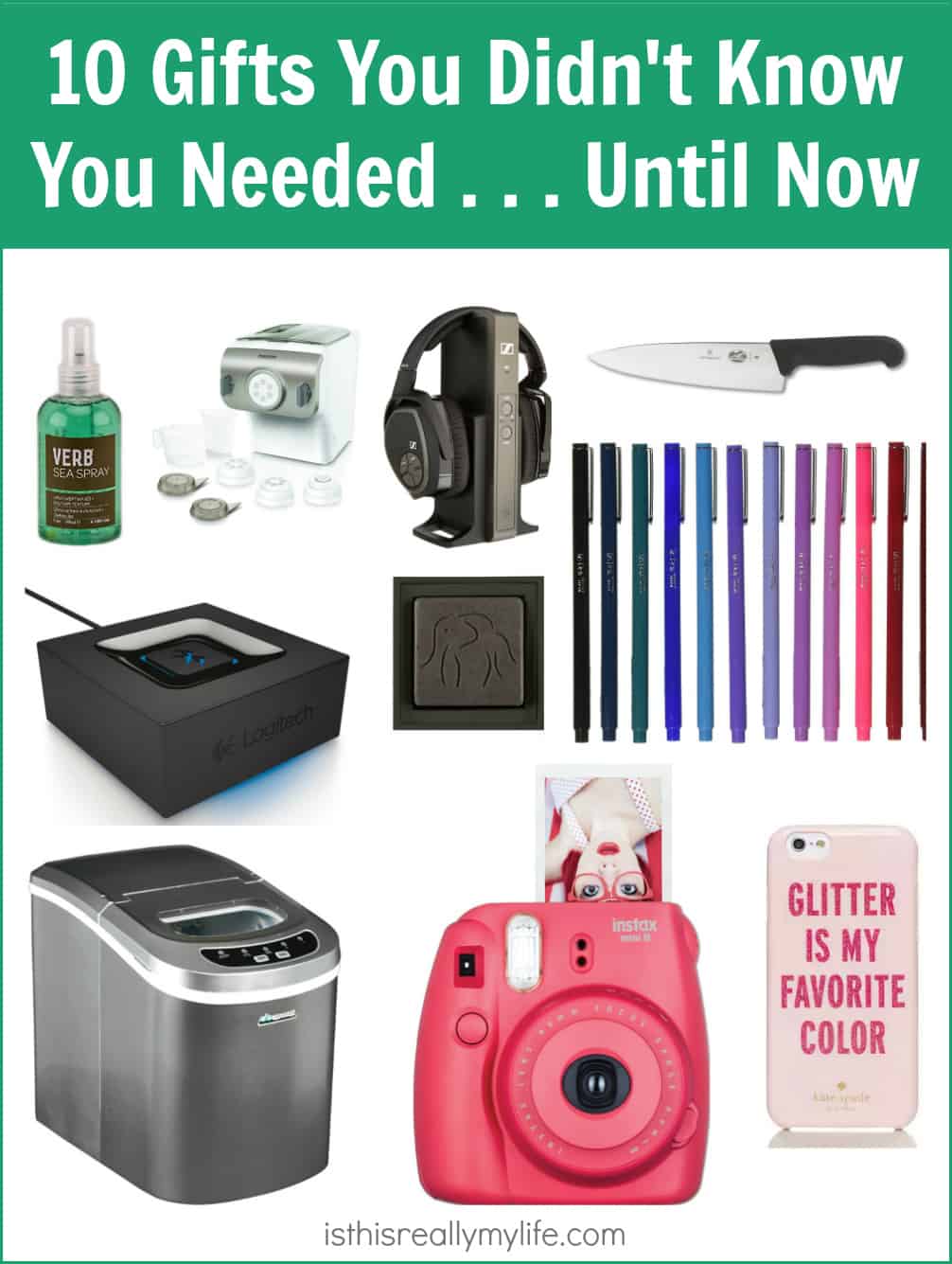 .
From left to right and top to bottom:
VERB Sea Spray. The best sea salt spray I've tried. Though its main purpose is loose, "oceanic" curls, it adds great texture to short hair.
Philips pasta maker. Once you've tasted homemade pasta, you won't want to settle for store bought.
Sennheiser RS 175 RF Wireless Headphones. I purchased these for Nathan because he liked listening to loud movies long after the kids went to bed. Then I discovered they're great when the kids want to listen to annoying YouTube videos and the teenager wants to listen to her Pandora station while doing the dishes.
Victronix Chef's Knife. A chef's knife is a must in any kitchen. If it doesn't break the bank, even better.
Logitech Bluetooth Audio Adapter. This lets you use your smartphone to DJ your personal dance party. I may or may not crank up Pandora on the stereo while the kids are in school.
Drunk Elephant JuJu Bar. This is my new favorite facial cleanser. I am in love with its gentle daily exfoliation.
Le Pen 18-Color Pen Set. Thanks to my friend Tauni, these are my new favorite pens. I can't stand writing with anything else.
Avalon portable pebble ice maker. If you can't get it from your fridge, this is the next best thing. And the Opal Nugget machine is too pricey at nearly $500.
Fujifilm Instax Mini 8 Instant Film Camera in raspberry. Because instant. And raspberry.
Kate Spade iPhone 6 case. I may have an Android but I can still fall in love with Kate Spade cell phone cases like this one.
What would you add to the list?
.


Feel free to "like" is this REALLY my life? on Facebook. It won't always earn you an extra entry in a giveaway but it will give you warm fuzzies.
Don't forget to sign up for free is this REALLY my life? updates via RSS or email so you don't miss a single awesome post.
.