While there are some great Father's Day gift ideas out there, there are some pretty bad ones too. Here are 10 gifts to avoid giving Dad on Father's Day if you want to remain the favorite!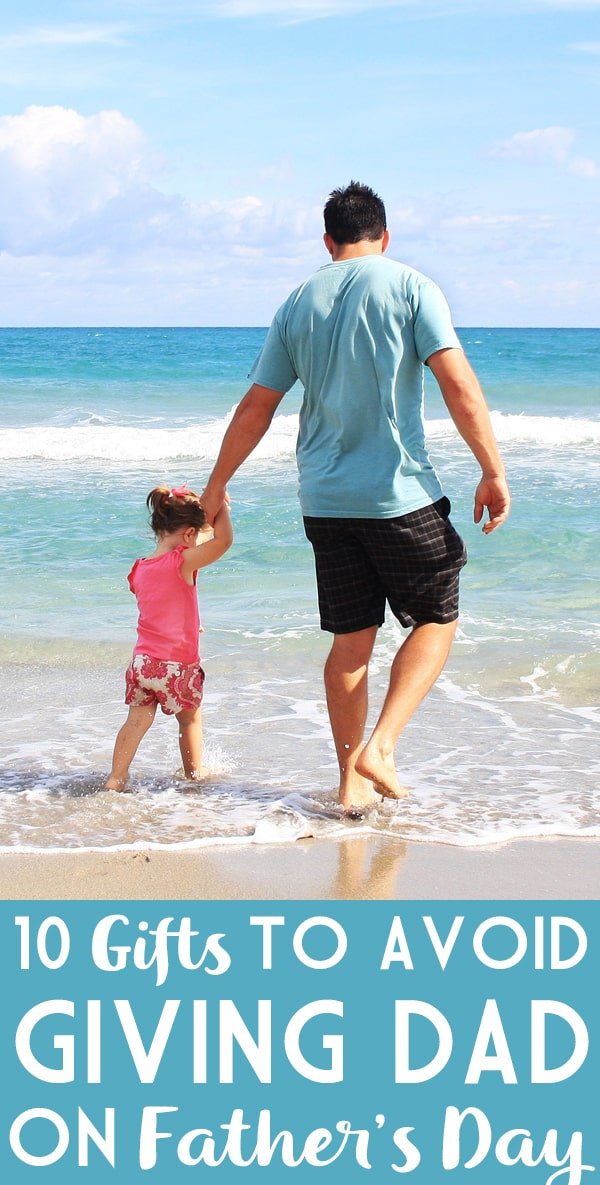 Post may include affiliate links, which means if you click on a link and purchase something, you won't pay anything extra but it will help support this blog.
Apparently dads are people too and as such, love it when Father's Day gifts show you (and the kids) have put some thought into the purchase. While they appreciate every gift—including the paper tie with self portrait from the 7-year-old—it's the gifts that show genuine sincerity they enjoy most.
Because you can find a bazillion Father's Day gift guides, I thought it might be fun to put together a list sharing 10 gifts you might want to avoid giving Dad this Father's Day. Remember, this is me being funny (and highly caffeinated); please don't take offense if you've already purchased an item (or two) on this list. I'm sure it's exactly what he wanted.
10 Gifts to Avoid Giving Dad for Father's Day
Gag gifts or crazy gadgets from SkyMall catalog. Gag gifts and crazy gadget have such a short shelf life—we're talking like 90 seconds max. After that, they end up in a junk drawer or on a forgotten garage shelf. It's just not worth it…unless it's your husband giving his brother a gag gift. In that case, it's totally okay.
Classic Old Spice anything. I don't care how handsome that Old Spice guy is in the commercials—and he's pretty handsome—Old Spice will always remind me of old men. Of course, if Old Spice is something your dad has worn for a good 20 years, I'll let it slide.
Funyuns, Combos, teriyaki beef jerky or any other "fragrant" snack. Yes, they're mighty delicious but they'll remain on his breath for days. And if he's gettin' lucky for Father's Day, you'll live to regret this gift for sure.
Neckties. I know we all love giving Dad a tie but at some point his tie collection will reach critical mass. Now bow ties, those things are cool. I'm all for a snazzy bow tie…if your dad can pull it off, that is.
A really awesome bathroom book. It's already hard enough to get Dad out of the bathroom. This makes it nearly impossible.
New golf clubs, fishing pole or other sporting goods. Hey, if you're cool with Dad spending hours with his golfing buddies, then by all means get him a new set of clubs. But don't combine new clubs with a really awesome bathroom book; you'll never see Dad again.
Socks. Socks? Really? Unless they're a super fun pair from Happy Socks (and you're sure Dad will wear 'em), don't bother.
"World's Greatest Dad" anything. "World's Greatest" kind of loses its awesomeness if tens of thousands of other dads are sporting the same phrase. Way to give Dad an identity crisis.
Body hair trimmers. Want to make Dad feel super unattractive? give him a gift that implies he needs better personal hygiene.
Any sort of tool that implies a project to go with it. This would be like my husband giving me a vacuum for Mother's Day. Thanks, babe. I was hoping you'd find a way for me to do more housework!
Get this. I had soap-on-a-rope on the list because I was certain this classic gift had gone out of existence in the early 90s but a little googling proved me wrong. Soap-on-a-rope is alive and well. But I still suggest avoiding gifting it unless you're looking for a subtle way to tell Dad he needs to bathe more often.
Of course there are things I think you should give dad for Father's Day. For example, this "best buds" Father's Day gift with free printable gift tag is super cute and super handy, especially if Dad wants to tune out the kids for a while. (Unfortunately it often means tuning out you, too. You've been warned.)
This is my favorite DIY Father's Day gift I've seen this year. I know Nathan would love it because it's not only handmade but also the perfect gift for a true Star Wars fan like Nathan.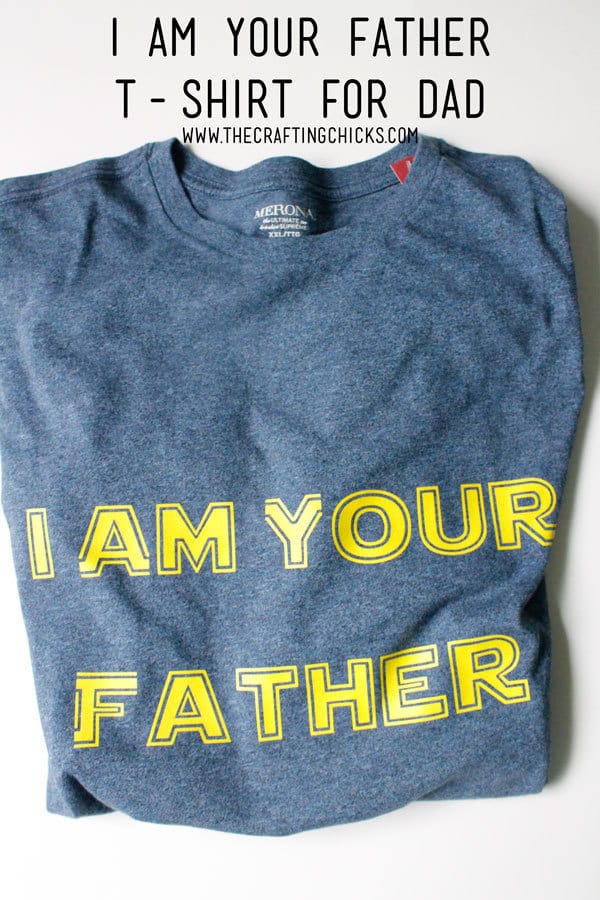 "I Am Your Father" DIY Father's Day T-shirt via Crafting Chicks